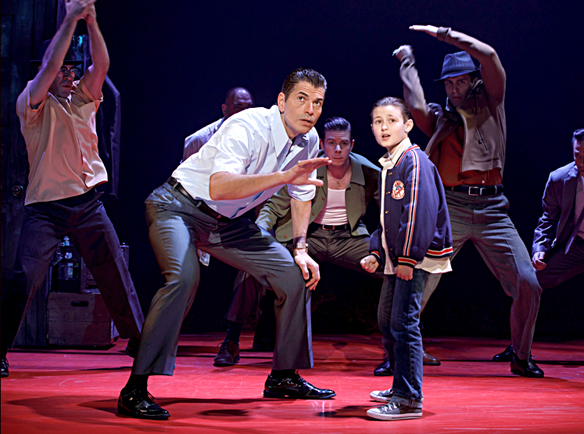 The streetwise musical A BRONX TALE featuring a book by Academy Award nominee Chazz Palminteri, music by Oscar, Grammy, and Tony Award winner Alan Menken, and lyrics by Grammy Award winner and Oscar and Tony Award nominee Glenn Slater, directed by two-time Oscar winner Robert De Niro (who brought the original story and star Palminteri to the screen in 1993, making his film directorial debut in the process) and four-time Tony Award winner Jerry Zaks, with choreography by Tony nominee Sergio Trujillo, takes audiences to the stoops of the Bronx in the 1960s where a young man is caught between the father he loves and the mob boss he'd love to be.
This production, which features an original doo-wop score, is a tale about respect, loyalty, love, and above all else, family.
The L.A. Premiere engagement this new musical's first North American Tour is taking place at the Hollywood Pantages Theatre for a three-week run through Nov. 25 featuring 10 alumni from the Broadway production which ended Aug, 5, 2018, including Joe Barbara as Sonny, Richard H. Blake as Lorenzo, Joey Barreiro as Calogero, Michelle Aravena as Rosina, Brianna Marie Bell as Jane, Antonio Beverly as Tyrone, with Frankie Leoni and Shane Pry alternating as Young Calogero.
The story seems a bit familiar as it includes elements from many other famous Broadway musicals, including West Side Story, Jersey Boys, In the Heights, the movie Saturday Night Fever and hit television show The Sopranos, in that audiences are taken on a journey with a young boy who chooses a life on the streets as an apprentice to Sonny, a much-feared mob boss (made cleverly likeable by Joe Barbara).
He does this rather than follow the lead of his upstanding, bus driver father (Richard H. Blake) and dedicated homemaker Mom, Rosina (Michelle Aravena).
Especially similar to Jersey Boys is the opening number with four young men standing under a street lamp on Belmont Avenue, singing in four-part harmony as the older Calogero (Joey Barreiro) introduces the story of his life to the audience during the highly entertaining and brilliantly choreographed opening number "Belmont Avenue."
And what a group of guys surround Sonny, including Rudy the Voice, Eddie Mush, JoJo the Whale, Frankie Coffeecake, bowlegged Tony-Ten-to-Two, Sally Slick, Handsome Nick and Crazy Mario. I especially enjoyed how each was introduced to Calogero in their hangout bar, standing up with lightbulb flashes going off as if having their front and side profile photos taken for their arrest record, with each seemingly taking it in stride as if no big deal. Much audience laughter followed each of their many poses!
The orchestra rocked the house from start to finish, with every cast member lending incredible vocal talent to each of the show's 19 musical numbers, with Frankie Leoni stealing the show as Young Calogero in "Roll 'Em" as Sonny teaches him how to throw the dice with flare, much in the same way Sky Masterson prays for luck with them in Guys and Dolls.
Another star of this production is the amazing and ever-evolving scenic design by Beowulf Boritt, exquisitely lit by Howell Binkley, which transforms into so many locations in the blink of an eye, allowing directors De Niro and Zaks to keep the quick pace between scenes seem totally natural to the story. Through various lighting techniques, cityscapes quickly become neighborhood tableaus as its residents suddenly appear in apartments on or balconies of the multi-level, open-area tenement set.
Much like the tale of star-crossed lovers Romeo and Juliet or Tony and Maria, "A Bronx Tale" includes Calogero falling for Jane (Brianna Marie Bell), an outspoken black girl from Webster Avenue, just two bus stops but a world away, who just might be "One of the Great Ones" he falls in love with during his lifetime, according to Sonny.
But both their families, as well as their friends, warn the two to stay away from each other – which of course means they will do exactly the opposite "In a World Like This." But ultimately it is his parents urging Calogero to "Look to Your Heart" that teaches the young man exactly how to best live his life.
Tickets for "A Bronx Tale," produced by Tommy Mottola, the Dodgers, Tribeca Productions and Evamere Entertainment, start at $35, available at www.HollywoodPantages.com/ABronxTale and www.Ticketmaster.com, by phone at 800-982-2787 or in person at the Hollywood Pantages Theatre Box Office at 6233 Hollywood Blvd, LA 90028. Regular performances on Tuesday through Friday at 8 p.m., Saturday at 2 p.m. and 8 p.m., and Sunday at 1 p.m. and 6:30 p.m. with some exceptions noted on website.
"A Bronx Tale" is recommended for ages 12 and up, and children under 5 will not be admitted to the theatre.
Another great musical for ages 12 and up is "The Color Purple," brilliantly directed and choreographed by Jeffrey Polk at the Greenway Court Theatre, 544 North Fairfax Ave., Los Angeles, CA 90036 through Dec. 9 on Fridays at 8 p.m., Saturdays at 8 p.m., and Sundays at 4 p.m. General admission tickets are $45 and Student/Senior prices are $20, available online at GreenwayCourtTheatre.org/THECOLORPURPLE or by calling 323-673-0544.