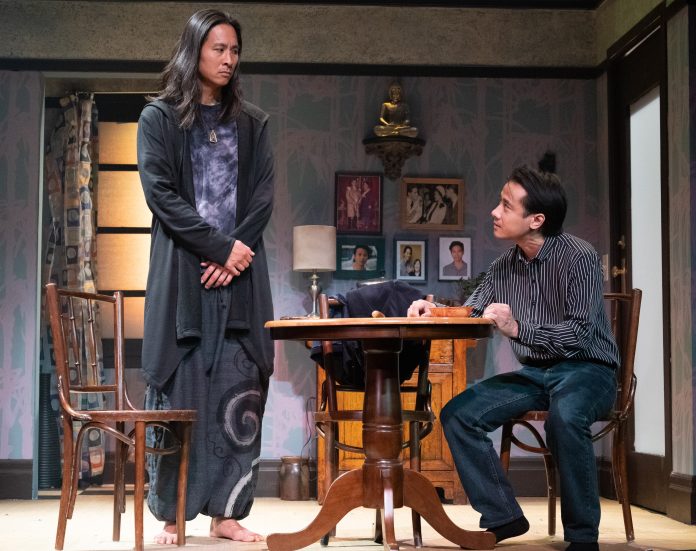 Founded in 1965, East West Players (EWP) is the largest producing organization of Asian American artistic work, offering full circle opportunities for artists in all facets of the theatre world. EWP multi-produced playwright and teaching artist Prince Gomolvilas' brilliantly crafted suspenseful thriller The Brothers Paranormal offers a humorous, compassionate, and sometimes frightening exploration of the trauma of leaving home, whether crossing the country, the globe, or over from the other side. After being originally produced in 2019 by Pan Asian Repertory Theatre in New York City, the production at EWP offers a real boo-fest filled with technical wizardry and plenty of plot twists and turns to keep you on the edge of your seat.
Directed with the utmost suspenseful and artistic skill by Jeff Liu, the play centers around two Thai brothers who struggle to launch a ghost-hunting business after a nationwide increase in sightings of "Asian-looking ghosts" tempts them to seek fame and fortune by contacting spirits from the other side. Knowing the true talent for such an endeavor comes from their mother Tasanee (Emily Kuroda), Max consults with her when the two brothers are called to investigate the paranormal hauntings at the home of a deeply devoted African-American couple (Tamika Simpkins as Delia, Jasper Louis as Felix) displaced by Hurricane Katrina. However, when it becomes clear that a real spirit from the other side seeking revenge is there (Ratana as Jai), it is up to the brothers to figure out exactly how send her over to the other side permanently without causing anyone harm. But can they? Or will unexpected surprises galore turn this thriller into an even more frightening sensory experience? You bet it does!
All cast members are extraordinary actors whose heartfelt emotional struggles will pull you in, toss you around, and leave you breathless as the story unravels. I will not share any plot details as the element of surprise is the most wonderful and powerful element in this thriller. And I want you to gasp and jump out of your seat just as much as I did when you see it.
The artistically-blessed creative team includes costume design by Hyun Sook Kim, scenic design by John Iacovelli, illusions by Ian O'Connor, props design by Michael O'Hara, lighting design by Brian Gale, sound design by Da Xu, and stage management by Brandon Hong Cheng. Kudos to each one for their dedication to making this production a fabulous tour-de-force presentation.
All performances of The Brothers Paranormal are presented at the David Henry Hwang Theater at the Union Center of the Arts at 120 Judge John Aiso Street, Los Angeles 90012 in Little Tokyo. Performances through Dec.11 on Thursday, Friday, Saturday, and Monday at 8 p.m., with additional 2 p.m. matinees on Saturday, and 5 p.m. performances on Sunday. Ticket prices range from $39 to $59, with $15 access tickets available in limited quantity to all performances, available in advance online at https://eastwestplayers.org or by calling (213) 625-7000. Student, senior, and group discounts are available. Masks required indoors. Self-parking available for $7 in adjacent lot.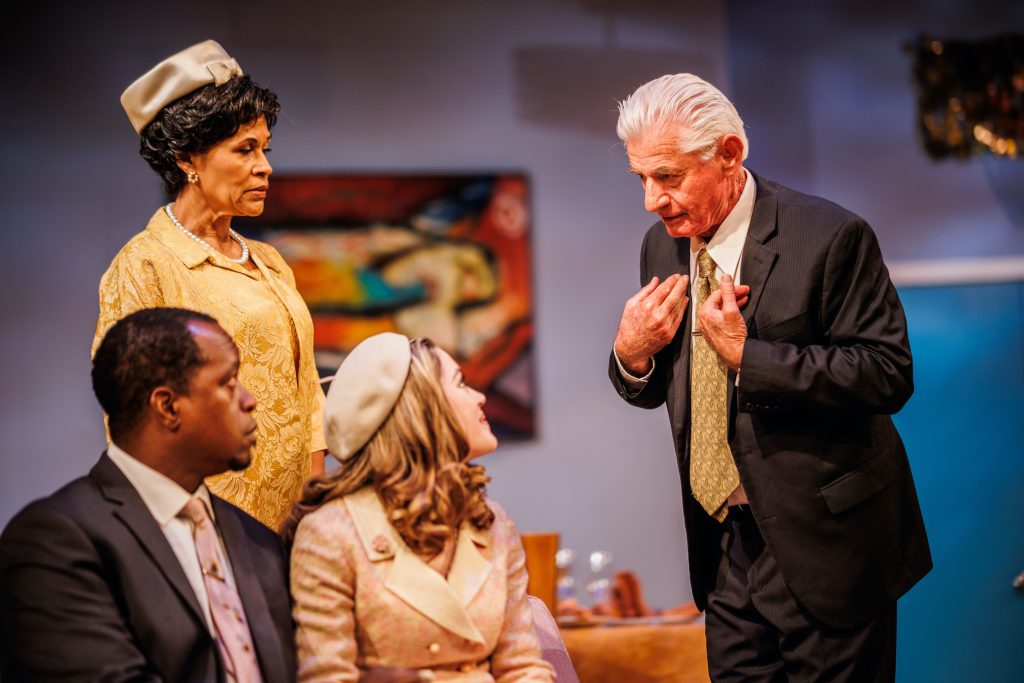 Interracial marriage was illegal in 16 states until six months before the opening of the film Guess Who's Coming to Dinner? written by William Rose and directed by Stanley Kramer. Nominated for Best Written American Drama by the Writers Guild of America and Best Comedy for the Laurel Awards, the film won the Oscar for Original Screenplay in 1968, and still resonates today. One of the tenAcademy Award nominations was a win for Katharine Hepburn for her role as Christina Drayton, playing opposite Spencer Tracey for the last time. The film inspired a 2005 race-reversed remake, Guess Who, starring Bernie Mac.
Taking place in 1967 just prior to the Loving vs. Virginia decision which made interracial marriage legal, the play centers around a progressive white couple whose proud liberal sensibilities are put to the test when their daughter brings her black fiancé home to meet them. Blindsided by their daughter's whirlwind romance and fearful for her future, Matt and Christina Drayton quickly come to realize the difference between supporting a mixed-race couple in your newspaper and welcoming one into your family. But they're surprised to find they aren't the only ones with concerns about the match when John's parents arrive for dinner. It's not long before a multi-family clash of racial and generational difference sweeps across the Draytons' idyllic San Francisco residence. But thankfully, tempers cool and the love between Joanna and John comes into focus after her father realizes if their love is as strong as they profess it to be, then no one should stand in their way to marry.
Adapted by Todd Kreidler from William Rose's screenplay, Guess Who's Coming to Dinner? is blessed to have Cate Caplin brilliantly directing the production at Theatre 40. Her skill at reaching into the depths of emotions while allowing each character to truthfully wear their heart on their sleeve reflects her thorough understanding of bringing characters to life. The multiple award winner's sure hands lift this production beyond just an imitation of the movie that will resonate with audiences on a much deeper personal level, knowing what's underneath the surface chatter is what really needs to change in society.
Featured in the outstanding cast are Larry Eisenberg as opinionated Matt Drayton, Diana Angelina as his loving wife Christina, Abigail Stewart as the wide-eyed optimist Joanna Drayton, Marc Antonio Pritchett as her fiancé Dr. John Wade Prentice, Frederick Dawson as Mr. John Prentice Sr., Crystal Yvonne Jackson as the say-it-like-it-is Matilda "Tillie" Binx, Patricia A. Lewis as Mrs. Mary Prentice, Jenn Robbins as the snooty Hilary St. George (a true "Karen" if ever there was one), and David Hunt Stafford as welcome dinner guest Monsignor Mike Ryan who attempts to add in a bit of reason to the tempers flaring all around him.
Tech credits add to the awe-inspiring production, including the realistic set design by Jeff G. Rack, exquisitely beautiful costumes designed by Michael Mullen, sound designer Nick Foran's fabulous compilation of 1967 hit songs to set the mood of the time, and subtle lighting effects designed by Derrick McDaniel.
Guess Who's Coming to Dinner?is being presented at Theatre 40, a professional theatre company located on the campus of Beverly Hills High School, 241 S. Moreno Dr., Beverly Hills 90212 (enter through the driveway at the intersection of Durant and Moreno Drives). Performances continue through Dec. 18 on Thursdays through Saturdays at 7:30 p.m., Sundays at 2:00 p.m., and two Wednesdays on Dec. 7 and 14 at 7:30 p.m. Reserved seats tickets are $35, available by calling (310) (310) 364-0535 or online at https://theatre40.org. Free parking in the adjacent lot. Masks are recommended indoors.