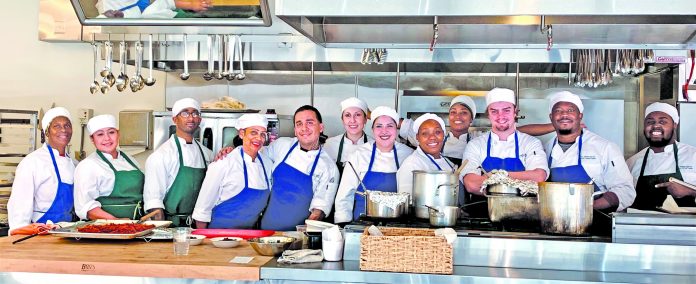 The inaugural food-tasting event to benefit Taste of St. Joseph Center's Culinary Training Program is planned for Thursday, Feb. 28 from 6 to 10 p.m. at Playa Studios in Culver City.
Chefs Brooke Williamson and Nick Roberts, who are co-owners of several restaurants, will demonstrate one of their signature bites. Williamson, who was the winner of Top Chef season 14 and Roberts will be honored as Chefs of the Year.
Several restaurants in Los Angeles are owned by the married couple, including Playa Provisions, Hudson House, Da Kikokiko and The Tripel.
Food will be served from signature menus of 21 eateries, along with eight beverage sponsors – all with the goal of funding a 12-week culinary skills session for homeless and low-income individuals. The training will be followed by an internship at restaurants such as Petit, Trois, Ashland Hill, Bottega Louis, and Ritz Carlton.
Many of the participating restaurants have high Zagat ratings such as Margo's, Blue Plate Oyseterette, Neighbor and Kogi Korean BBQ.
As an example of one of the anticipated offerings, Tocaya Organica's staff said they plan to serve their Fajita Del Rey Bowl. This popular menu item consists of sautéed peppers, onions, cilantro lime rice, black beans, vegan chipotle crema, guacamole, and pico de gallo according to the website. They said their "primary social mission is supporting the environment and we feel that part of supporting our environment is supporting the people in it."
The Eventbrite website states that the tuition-free CTP is a 12-week curriculum designed to teach formerly homeless and low-income individuals the skills that will enable them to work in the food industry where 84% of the students were hired at the time of graduation.
St. Joseph Center, which reaches 10,000 annually, began in 1976 in a small storefront on Rose Avenue in Venice, according to the website. "Our mission is to provide working poor families, as well as homeless men, women, and children of all ages with the inner resources and tools to become productive, stable and self-supporting members of the community."
Playa Studios is located at 11260 Playa Court. Tickets can be purchased on Eventbrite.com starting at $74.50.
Uber and Lyft are strongly suggested.