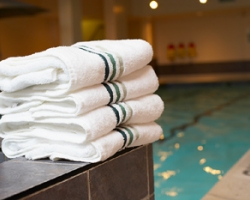 The cool water at the Culver City Municipal Pool is a refreshing pause for many but for the Culver City High School swimmers it's another summer workout in preparation for water polo and swimming events during the school year.
Juniors Lindsey Grossman, Aurora Madrigal and Mitzy Hernandez, who finished sixth at the Pioneer League championships last month in the 200-meter freestyle relay with senior Katie Labarbers, are staying in shape.
Freshmen Kyle Rovira and Matthew Allen, along with sophomores Tyri Guyton-Fisher and Bryan Kocker, who together won the 200-meter freestyle relay in the Pioneer League frosh-soph finals, prepare for another season.
Kocker, Allen and Rovira also won individual events in the meet.
Sophomores Ruth Basurto, Olivia Valdez, Stella Eng and Samira Viliani, who, like the boys, also won the 200-meter freestyle relay in the Pioneer frosh-soph championships, are preparing for participation on the varsity team.
Freshmen Briell Huerta, Jordyn Whitcomb and Judith Calderon, along with sophomore Ifeona Wadibia, took fifth in the event. They are expected to return with underclass swimmers Kelly Allison and Kira Hughs.