OK, we have to admit it. Swanya Thai is conveniently located right across the street from the CCN office on Sepulveda, and it's been catching our eye for a while now. Not least because Thai is some of the most fragrant and enticing food in existence. Something about the smell of lemongrass mixed with vegetables and spices just draws you in.
Swanya Thai is no exception. Swankier than the average joint, Swanya's staff are welcoming and warm, and the decor is contemporary and clean. They didn't know we were there to review, yet they still gave us a complimentary delicious Thai iced tea. So rich and tasty, and also very, very sweet.
Everything we ordered was great. We had the chicken larb, and it was fascinating because every time we've had that dish in the past it's been served with lettuce leaves to scoop the meat up with. On this occasion, it comes with triangles of raw white cabbage. That sounds like it might be tough and bitter, but it actually works beautifully.
The meat, seasoned with chili to give it a nice bite, isn't at all greasy and it's full of flavor. It ends up being a tasty and relatively healthy dish.
The egg rolls are crisp and full of steamy veg, while the cream cheese wontons are equally crisp and filled, as you might expect, with delicious cream cheese. There's nothing particularly unusual about these classic appetizers, but they certainly hit the spot.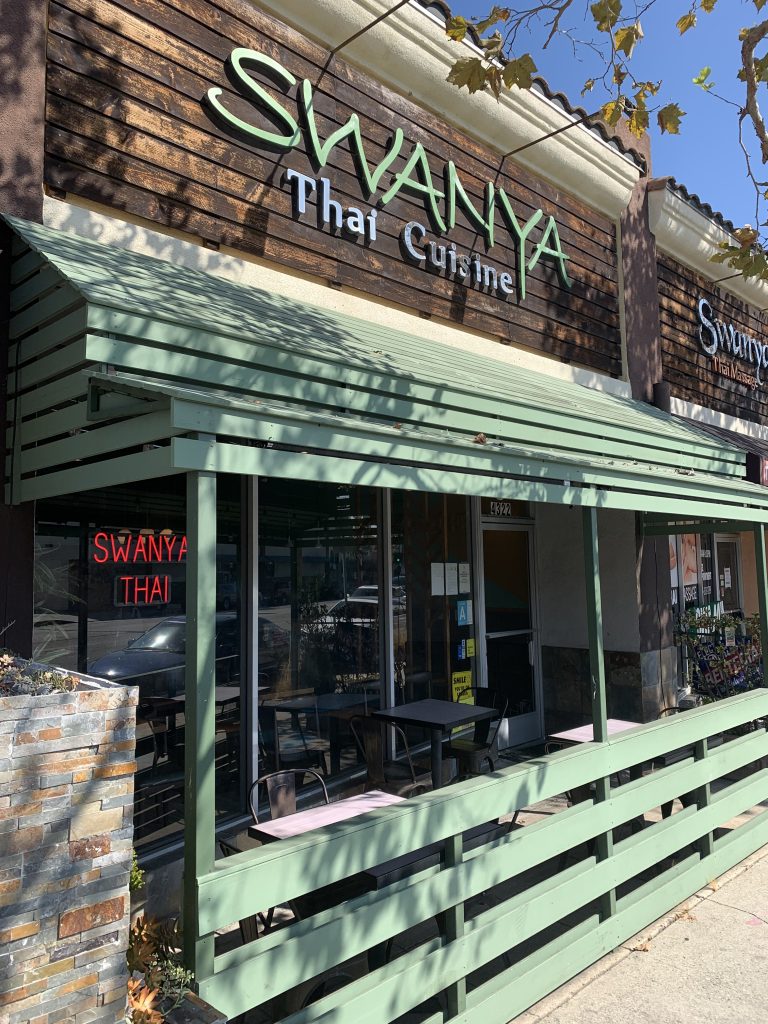 The garden rolls are essentially salad in a rice paper wrap, but these are great because they're not filled with noodles at the expense of the vegetables, as these things so often are. The basil inside and the peanut dip help create a tasty appetizer.
The tom kah coconut soup, served tofu, is possibly the star of the show. The broth, spices and coconut are to die for, and it's packed with vegetables. The tofu works great because it basically soaks up the flavor of the soup.
The tofu sa-tay does a good job of aping the classic chicken counterpart. It's crisp, and most of the flavor comes from the delicious peanut sauce and tangy cucumber relish. It would be great if the tofu was cut into smaller pieces so that the marinade covered more of it, but that's a small complaint.
And then there's pad kee-mau, sometimes called drunken noodles elsewhere. We opted to have this spicy dish on the mild side, and it had just the right amount of kick. The soft, flat noodles tasted wonderful in the rish sauce and vegetables.
Ultimately, Swanya serves quality Thai food and we'd go again.
Swanya Thai is located at 4322 Sepulveda Blvd., Culver City. Call 310-313-1999 or visit swanyathaicuisine.com.