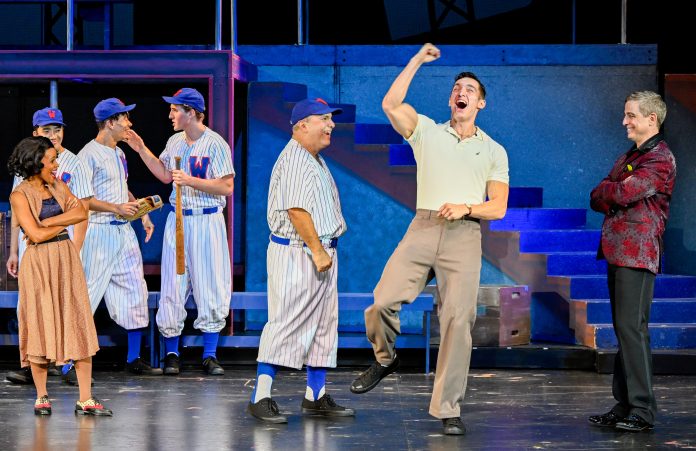 Batter up! Baseball is back, and so is a Broadway quality production by Musical Theatre West with the return of the seven-time Tony Award-winning musical DAMN YANKEES, based on the novel "The Year the Yankees Lost the Pennant" by Douglass Wallop, telling the story of middle-aged baseball fanatic Joe Boyd who trades his soul to the Devil for a chance to lead his favorite team to victory against the New York Yankees. The winning score by Richard Adler and Jerry Ross, and book by George Abbott and Douglas Wallop, have made this sporty musical comedy a true American classic.
Directed to perfection by Cynthia Ferrer with Musical Direction by Matthew Smedal, show-stopping choreography by Alexis Carra Girbés, and astounding scenic design by Kevin Clowes, the production is led by triple-threat performers James Olivas as muscular everyman "Shoeless Joe" Hardy, Jeff Skowron as the cleverly devilish Applegate, Lesli Margherita as Lola the temptress who always gets what she wants, Norman Large as baseball fanatic Joe Boyd, Teri Bibb as his long-suffering wife Meg, and Aurelia Michael-Holmgren as investigative reporter Gloria Thorpe, all of whom lead the high energy ensemble to hit it out of the park in this true grand slam of a show!
"Damn Yankees" continues through Oct. 30, 2022 at the Carpenter Performing Arts Center on the campus of Cal State Long Beach at 6200 E Atherton St, Long Beach 90815. Tickets run $20 – $96, available by phone at 562-856-1999 or online at https://musical.org where more information about performances can be found. $15 student with ID rush tickets are available at the door 1 hour prior to showtime. Due to subject matter, this production is not recommended for children under 12. My advice: run don't walk to get tickets to this top-notch production!
The Mark Morris Dance Group again wowed audiences with the world premiere of THE LOOK OF LOVE – An Evening of Dance to the Music of Burt Bacharach at the BroadStage in Santa Monica last weekend, the tenth evening-length work of the prolific Morris's career, following 2017's Pepperland, which showcased the work of musical legends, The Beatles. I knew when the group returned to Los Angeles, I would be there to become enveloped into the wonder and emotion-filled performance by this talented group of dancers, singers and musicians. And I was not disappointed.
"Always engaging melodically, always surprising rhythmically, with a touch of melancholy and a striving hope, Bacharach's marvelous music calls out for dancing," shares choreographer Morris. "There is a rich range of emotion, point of view, and dynamics in Bacharach's (and lyricist Hal David's) amazing compositions."
And he certainly succeeded with "The Look of Love," celebrating Bacharach's many musical moods of love and heartbreak, including 14 songs by the multi-Grammy-award winning pop composer and songwriter: "There's Always Something There to Remind Me," "Message to Michael," "Anyone Who Had A Heart," "Walk on By," "Are You There (With Another Girl)," "I Say A Little Prayer," "Do You Know the Way to San Jose," "I'll Never Fall in Love Again," "What the World Needs Now Is Love," "Don't Make Me Over," "Raindrops Keep Fallin' on My Head," "Alfie," "The Look of Love," and "The Blob," arranged by Ethan Iverson.
Lead singer extraordinaire Marcy Harriell channeled Dionne Warwick, with her vocal stylings and moody delivery perfectly enhanced by background vocalists Clinton Curtis and Blaire Reinhard. The ten interpretive dancers were dressed to simple perfection in a flowing assortment of pastels by Isaac Mizrahi who also designed the color-coordinated chairs and cushions used by the dancers to create differing scenic elements. Lighting designer Nicole Pearce enhanced the emotionally-charged songs with background colors ranging from the bold red of angry disappointment to the bright yellow of first love.
Burt Bacharach shares, "I've found an ideal collaborator in Mark Morris, whose brilliant choreography and deep musicality give songs new meaning and dimension through movement. Like a great melody, his dances evoke an atmosphere and inspire feelings, and I think that's just what the world needs now." I completely agree and urge you to follow the internationally-renowned Mark Morris Dance Group at https://markmorrisdancegroup.org/ where you can find information about the national 2022-2023 tour of "The Look of Love."
World renowned soprano Renée Fleming and pianist extraordinaire Jean-Yves Thibaudet filled the Walt Disney Concert Hall with musical magic. Photos courtesy of the Los Angeles Philharmonic Association
Renée Fleming continues to be one of the most highly acclaimed singers of our time, performing on the stages of the world's greatest opera houses and concert halls. Honored with four Grammy Awards and the U.S. National Medal of Arts, Renée has sung for monumental occasions from the Nobel Peace Prize ceremony to the Diamond Jubilee Concert for Queen Elizabeth II at Buckingham Palace. In 2014, she brought her incredible voice to a vast new audience as the first classical artist ever to sing The Star-Spangled Banner at the Super Bowl. It's easy to understand with credentials like that, among many more, why I was so excited to be able to attend the Colburn Celebrity Recital featuring Renée Fleming, one of the world's reigning divas, performing with one of the world's finest pianists Jean-Yves Thibaudet, the first time the two have performed together in two decades.
It was an evening of musical magic, bringing a marvelous mixture of classical favorites and rare gems to the Walt Disney Concert Hall on Oct. 16, filling it with soaring, soul-inspiring music from Schubert, Liszt, Fauré, Debussy, DuParc and Kevin Puts. While most selections were sung in German or French, English subtitles were projected to better understand the feelings expressed in each song from the depths of despair to the joy of Springtime and young love. But Fleming's vocal range and exquisite, classical stylings made me forget to read the lyrics and just close my eyes and let her voice inspire my soul to wander in memories that flooded my thoughts, lost in the wonder of being in the presence of such magnificence. And to honor the location, the evening ended with "When You Wish Upon a Star," a song written by Leigh Harline (music), and Ned Washington (lyrics) for Walt Disney's animated classic Pinocchio.
I encourage everyone to experience performances within the perfect acoustics of the Walt Disney Concert Hall by visiting the Los Angeles Philharmonic website at www.laphil.com where information about and tickets for more than 250 concerts are available, performed or presented in its three iconic venues: the Frank Gehry-inspired Walt Disney Concert Hall, The Ford, and the famed Hollywood Bowl. I encourage families to experience the varying array of groundbreaking and diverse programming together to assist in keeping the Arts alive while inspiring creativity so vital to the human spirit.