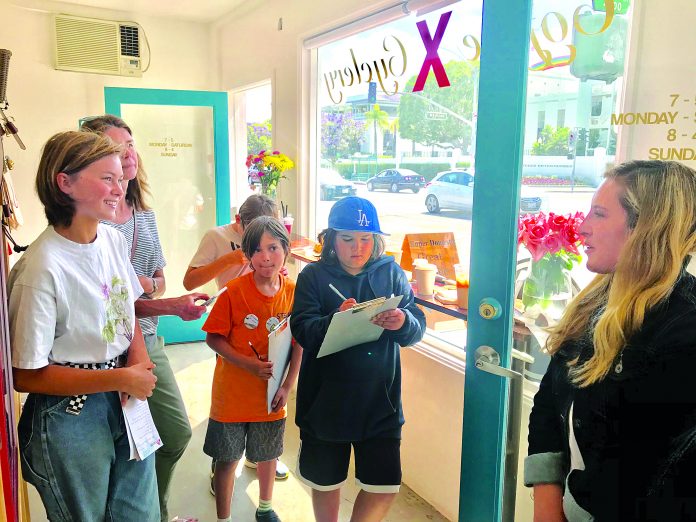 By Sawyer Kelly, Age 10, Kid Scoop Media Correspondent
I recently reviewed a new coffee shop on the corner of Culver Blvd. and Madison Ave. called Super Domestic Coffee.  It is owned and by a married couple, Brandon and Kelly Jackson. One thing you may not know about this coffee shop is that, not only do they sell drinks and pastries, they also sell bikes, bike accessories, succulents, yogurt, and parfait. While I was there me and five other people (two of them were my dad and brother), tasted four different pastries, one yogurt, one parfait, and two types of drinks.
The first pastry we tried was a churro glaze doughnut.  The churro glaze tasted like it had a lot of cinnamon and a little too sweet, but it was still good.  The second pastry was a blueberry earl grey doughnut.  This one was my favorite pastry they had because I like blueberries and it had little chunks of blueberry in the doughnut.  We also tried vanilla bourbon chia yogurt.  After that, we tried a raspberry parfait, and that had the perfect flavor of sour and sweet.  Then we tried two different croissants.  One of them was a plain butter croissant that was really good.  The second was a spinach feta croissant which was too salty for me.
The first drink I tasted was a vanilla latte decaf.  And that was to bitter for me, and it was probably because I'm just a kid and I don't like coffee yet.  The second drink was a kombucha.  The flavor was kind of sour, bubbly, and sweet.
So in conclusion, I really liked Super Domestic Coffee the bikes and coffee shop.  They had some pretty amazing things there and I think you should try going there some time, and maybe you might like it.
________
Super Domestic Review
By Emmett Kelly Age 7, Kid Scoop Media Correspondent
I think it's weird that one shop sells both coffee and bikes. Things at Super Domestic Coffee taste good. You should eat there.
The name Super Domestic is a cycling term.
Three drinks I had there were; Iced Vanilla Latte (Decaf), Kombucha (it's kind of sour) and hot chocolate.
The churro fronut was nice and sweet. It reminded me of a churro.
The blueberry donut tasted like a blueberry muffin. The butter croissant tasted like a normal croissant. The spinach feta croissant tasted good but the texture was weird.
The two house-made yogurts tasted good because they were different from other yogurts.
I asked the people who work there some questions.
Q: What is your favorite thing here?
A: Rasberry yogurt
Q: What is the most common thing ordered here?
A: Iced Vanilla Latte
Q: Why do you work here?
A: Because I always wanted to open a coffee shop (Kelly)
Q: Do you get free food?
A: No.
Q: Do you like your job?
A: Yes.
_________________
Kate Bancroft, Kid Scoop Media Correspondent, Age 13
I visited Super Domestic Coffee for the first time with Kid Scoop Media, and I must confess, it was one of the best coffee shops I've ever been to. As far as first impressions go, I felt immediately welcomed in the shop, as it had such a friendly environment. Co-owner, Kelly Jackson, says, "We want [customers] to feel welcomed when they enter, and we love having repeat customers". Because of the shop's beachy, minimalist decor, it definitely fits into the Southern California lifestyle. However, Super Domestic has fully immersed themselves into the "vintage European theme" as well, with chic biking gear and a fitting name. Super Domestic originates from the French word pronounced "do-mes-tique", and it comes from the cycling world. As Kelly explains, "A 'super domestic' is someone who helps the main cyclist of a team get through a race. They give them coffee…water. They're really in a team effort to get them through the race". This husband and wife business makes quite the team and Kelly says, "we balance each other out". Super Domestic is invested in creating a friendly neighborhood environment and it is one of the things that makes it more appealing to locals as opposed to a chain business. Even more appealing, however, is the actual food and drink. I tried both a Mocha Iced Latte and a Bourbon Vanilla Latte, as well as several of their delicious pastries from The Larder. One of the most impressive things about their products is that they hand-make several of their ingredients. Their bourbon vanilla syrup, as well as their nut and oat milks "are made in-house, [they] make it fresh", and it definitely tastes the part. Even with drinks on the sugary side, they don't taste fake or processed, and it's a special treat to coffee-seekers who are looking for something genuine. As far as pastries and snacks go, my personal favorite was the Blueberry Earl Grey donut, but they range from classic flaky croissants to tart parfaits. I would recommend this coffee shop to locals, or just anyone who needs a friendly pick-me-up.