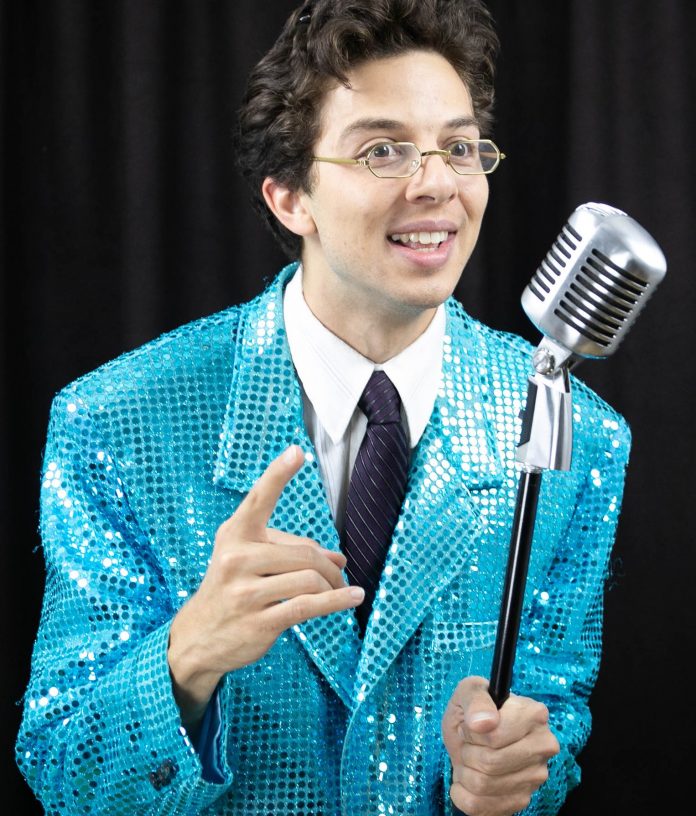 Born and raised in Suburban Philadelphia, playwright Mark Wesley Curran admits he has only been to Brooklyn once in his life while driving through the town to get somewhere else. And yet he chose to write the World Premiere play FOREVER BROOKLYN! about Melvin Kaplofkis, a young Jewish man growing up in Brooklyn in the 1950s who, as a kid, entertained his family and friends by telling jokes and stories, longing for success as a comic in the 1960s. Fans of Neil Simon will point to Brighton Beach Memoirs and Broadway Bound, two plays which I assume Mr. Curran used as source material, along with a few early films by Woody Allen, to develop the play's characters and setting rather than writing from his own personal experience.
Curran's new solo show, performed by Danny DiTorrice, presents a rather superficial look at the real character of Brooklyn during Kaplofkis' journey to become a successful comic, with a few stock photos of typical buildings, the Brooklyn Bridge, and Coney Island's Cyclone roller coaster to communicate the setting. We do learn that his father owns and operates a record store, with his family hoping he will stay in Brooklyn to assist in the business rather than traipse around the world as a comic. Even more stereotypical is the young man being pressed into service, against his will, as a bagman for the Mob that's been ruling Brooklyn with an iron fist. And Mel knows if he decides to leave, there will be a price to be paid.
DiTorrice takes us along as Mel is championed by a local radio personality and begins to move up with gigs in the Borscht Belt resorts. After it turns out he actually has a flair for performing, he is booked for an appearance on The Tonight Show Starring Johnny Carson and things take off, ultimately taking him away from his hometown and family for long periods of time. But like all of us, where you are born and raised will always be a big part of who we are, never realizing how much you will miss it until it becomes a memory. I just wish Curran had written a more original and thorough character based on his own experience rather than such a stereotypical one lacking any real Jewish-Brooklyn flavor.
I will say that DiTorrice does a fine job at mimicking all the characters from Mel's life while performing traditional klezmer and Jewish tunes as well as humorous satirical song parodies. He truly lit up the stage with his smile while describing the Korean woman he meets on a plane, treating us to one of the most comical moments in the play during his rendition of "I Just Met a Girl from Korea," a parody of the famous tune about Maria from West Side Story.
Hopefully, people transplanted to Los Angeles from the East Coast, Brooklyn in particular, who see the play will assist in providing Curran with more personal tales of their hometown in the 50s and 60s which would enhance the storyline and add more authenticity to the setting and flavor of the piece as it continues to evolve.
The World Premiere of FOREVER BROOKLYN! written and directed by Mark Wesley Curran, starring Danny DiTorrice, produced by West Coast Performing Arts Presenters, continues at the Whitefire Theatre, 13500 Ventura Blvd., Sherman Oaks, CA 91423 on Saturdays at 7:30pm through February 9.  Tickets are $30 and may be reserved by calling (800) 838-3006. This play kicks off the Whitefire Solofest 2019 during which 50 shows will be presented in 60 days. For more information and tickets, visit www.whitefiretheatre.com