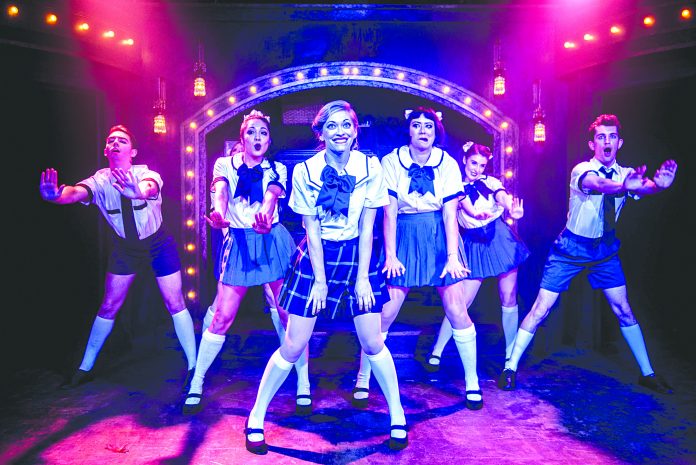 By Shari Barrett
With its smoky atmosphere, dim lighting, and a scantily clad ensemble of six entertainers led by the sexy, sensational, and fear-inducing Emcee (Alex Nee who shines like a superstar in the role), you immediately can sense this is a downright dangerous place to be. If you're not careful, you could lose your perspective on the world outside where the Nazis are about to bring social and political madness into German society.
Even if you have seen CABARET many times before, this dark, eerily relevant masterful production brings it to you like you've never seen it before, thanks to director Michael Matthews who shares many instances mirroring the dangerous climate in our world today about following a leader who does not really have our best interests at heart. Fight that urge, he reminds us. RESIST before it is too late.
While the Emcee is really the star of the show, many challenging relationships are the heart of the musical, especially the trials and tribulations faced by British cabaret singer Sally Bowles (Talisa Friedman who commands the stage as she sings), and her latest love interest, the newly-arrived-to-Berlin American writer, Cliff Bradshaw (Christopher Maikish), who is desperate to hide his attraction to and past relationships with men, especially his recent dalliance in London with Bobby (tall, dark-eyed Tanner Rampton), one of the current Kit Kat Boys.
While I count John Kander and Fred Ebb's score as one of the finest in musical theatre history, thanks to Anthony Zediker's musical direction of an outstanding four-piece band who rocks the house, I can honestly tell you Celebration's staging is the best I have ever seen of this musical extravaganza, especially since it is done in such a small space where the audience really does feel as if we are patrons at the Kit Kat Klub trying to forget our troubles for a while.
Along with Matthews' directing magic, adding to the wonder of the show is Janet Roston's highly entertaining choreography which perfectly reflects the innocence as well as the fearful reality behind the music's lyrics. This is especially true during "If You Could See Her Through My Eyes," during which the Emcee cavorts erotically with a large ape dressed as a female ballerina, expounding her virtues, then finally sharing in a loud whisper, "she doesn't look Jewish at all" as he slaps a large, yellow Star of David on her costume. A comical yet utterly chilling moment of cruel historical prophecy.
That song reflects the long-running relationship between rooming house owner Fraulein Schneider (June Carryl, cast against type who excels in the role with her amazing voice and emotional range) and fruit market owner Herr Schultz (Matthew Henerson), a German Jew who thinks he has nothing to fear.
Unfortunately, we know better and completely understand her reasoning and heartbreak in calling off their engagement, especially during Carryl's soul-searching plea, "What Would You Do?"
Other outstanding performers include Katherine Tokarz as the pregnant streetwalker Fraulein Kost who has a real fondness for sailors, John Colella as Ernst, a German "importer" who enlists the money-hungry Cliff into smuggling sought-after novelties from Paris and then aligns with the Nazis to protect his German interests, and the uber-talented Kit Kat Ensemble: Jasmine Ejan, Tristan McIntyre, Sarah Mullis, Tanner Rampton, Nicole Stouffer, and Mary Ann Welshans who is featured in a marvelous German solo during "Marriage" and plays violin in another. And be prepared to be visually dazzled by Nee's final scene as the Emcee initiates a voiceover news commentary reflecting the violence and political upheaval which continues to take place to this day. It is a warning we must heed before it is too late.
Kudos to the entire artistic production team, including Scenic Design by Stephen Gifford, Lighting Design by Matthew Brian Denman, enchanting period-perfect Costume Design by Michael Mullen, Sound Design by Cricket Myers, Properties Design by Michael O'Hara, Wig/Hair Design by Byron Batista, Dialect Coaching by Tuffet Schmelzle, and producers Jay Marcus and Michael O'Hara.
"Cabaret" runs through Sunday, July 15; on Thursday, Friday and Saturday evenings at 8 p.m.; Sundays at 2 p.m. at Celebration Theatre at the Lex Theatre, 6760 Lexington Ave. (adjacent to Hollywood's Theatre Row where the current Hollywood Fringe Festival is taking place through June 24.) All tickets are $35 (General Seating); $45 (Reserved); $55 (House Seats) and $75 (Limited Premium Onstage Seating).
For tickets, call 323-957-1884 or visit www.celebrationtheatre.com to purchase tickets, view a complete schedule, or for further details.