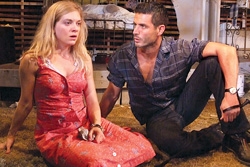 This summer, Angelinos will have a unique opportunity to sample two rare Tennessee Williams plays helmed by two distinguished directors at two of L.A.'s premier intimate theaters. Williams was born in Mississippi and adored his grandmother and sister growing up, yet had a complicated relationship with his overbearing mother whose husband was a travelling salesman and never home. So it's no wonder that fantasy and survival motivate and plague many of his female protagonists. He has been applauded for embracing and acknowledging women's desires and sexual needs that can be simultaneously empowering and overpowering. Such is the case in both plays reviewed in this column.
KINGDOM OF EARTH, which pits brothers in a battle for family property and the same woman, opened July 15 as a guest production at West L.A.'s Odyssey Theatre. Michael Arabian, (most recently recognized for his multiple award-winning production of Waiting for Godot at the Mark Taper Forum), directs "Kingdom of Earth."
Williams' most deeply felt emotions are fully realized in this savage, sexually-charged story about three outcasts trapped in an isolated, once elegant Mississippi farmhouse by an encroaching flood. When you enter the mist-filled theater, sounds of the brutally raging storm set the mood for the bitter family story and tensions about to unfold.
Dying from tuberculosis and obsessed with memories of his late mother, "mama's boy" Lot (beautifully handsome Daniel Felix de Weldon) returns home with his wife of 24 hours, the aging, down-on-her-luck showgirl, Myrtle (Susan Priver). The two seem a strange pair, especially since Lot is played by de Weldon as an elegant, if rather effeminate, well-mannered Southern Gentlemen whose white suit is accessorized by all pink attire. Many speculate the character of Lot is based on Williams himself, who suffered from feelings of inadequacy and isolation, exacerbated by the guilt and confusion he associated with his homosexuality.
Why would an earthy woman like Myrtle jump at the chance to marry such a man? Was she at the end of her rope or just plain lonely? Is it her fantasy to be a respectable and dignified member of Southern society or just her need to survive by any means possible that leads her to follow such a man into such an unfulfilled life? Does Lot see a need in her that he can use to serve his own purposes to save the family farm? In fact, as soon as the two arrive in the dilapidated yet still filled with Southern style from bygone days, Myrtle realizes Lot's return fuels a longstanding feud with his biracial half-brother, Chicken (Brian Burke), over the ownership of the family estate. As the flood waters rise, Myrtle, at once frightened of and fascinated by the macho Chicken, is caught between his kitchen lair and sexual bravado, and the upstairs bedroom where her seemingly asexual new husband is fighting for breath and losing his tenuous hold on reality.
"The metaphorical and taboo motifs of race, gender and human survival in this play are surprisingly current," says Arabian. "Williams is never dated because his themes are so universal." This is especially true when it comes to dysfunctional family situations wherein a woman feels a real need to latch onto a man for survival. Williams' most deeply felt emotions are fully realized in this rich and comical take on the loneliness of life with Priver, Burke and de Weldon an amazing trio who portray each of the characters from the depth of their souls.
"Kingdom of Earth" is presented by Dance On Productions in association with Linda Toliver and Gary Guidinger as a guest production at the Odyssey Theatre, 2055 S. Sepulveda Blvd., Los Angeles. Tickets are $30, with rush tickets $15 at the door, one hour prior to curtain subject to availability. To purchase tickets, call 310-477-2055 or go to www.odysseytheatre.com.
BABY DOLL is an Enthralling Tale of Prejudice, Sexual Politics and Passion
Opening July 29 at East Hollywood's Fountain Theatre, Los Angeles Drama Critics Circle Lifetime Achievement in Directing Award recipient Simon Levy heads up the West Coast premiere of the Pierre Laville/Emily Mann adaptation of "Baby Doll." This enthralling tale of prejudice, sexual politics and passion is the first-ever Williams Estate-approved stage adaptation of the controversial 1956 Tennessee Williams screenplay which caused quite a sensation when Elia Kazan's film was released.
Darkly comic and crackling with sexual tension, "Baby Doll" is the story of 19-year-old married virgin "Baby Doll" Meighan (Lindsay LaVanchy), who must consummate her marriage on her 20th birthday in two days, as long as her middle-aged husband, Archie Lee (John Prosky), upholds his end of the bargain to provide her with a comfortable life. LaVanchy knows just how to use her innocence and good looks to create whatever reactions she wants from him, and she will make you wonder how she can possibly get away with her sexual machinations. Prosky definitely knows how to play the prejudiced good ole Southern boy, bringing the idea of what the old South must have been like into complete focus. He is a fool and Baby Doll knows just how to play him for what she needs, not what he wants from her.
Now suffering financially, Archie Lee burns down his neighbor's cotton gin to save his failing business. His rival, Sicilian immigrant Silva Vacarro (Daniel Bess), arrives to seek revenge for the fire on his property. What ensues is a complex mix of desire and desperation, with Baby Doll as both player and pawn between the two Southern rivals. Brutally handsome Bess arrives carrying a riding crop, and you can bet when he cracks it that Baby Doll will jump to attention just as quickly as his horses do when taking the wagons of cotton to market. It's no wonder he gets Baby Doll to ignite her hidden sexual passion. How she keeps her reserve around him is a mystery to me!
Karen Kondazian, who plays the role of dotty Aunt Rose Comfort, has starred in numerous Williams productions, including a 1979 production of The Rose Tattoo for which she received the Los Angeles Drama Critics Circle Award – and which led to a steadfast friendship with Williams until his death in 1983. Here she plays a good woman suffering from dementia who takes great joy in visiting friends in comas at the local hospital so she can eat all their chocolate candy. Life has passed poor Aunt Rose by and Kondazian portrays this pitiful character to perfection.
Rounding out the cast is George Roland in the cameo role of the Sherriff who finally takes Archie Lee in for the crime he has committed, leaving Baby Doll and Silva alone to ponder their sexually awakening friendship.
"The miracle of Tennessee Williams is that he can write these wonderful, wacky, wildly rich and complex characters and situations, yet underneath it all are timeless social and political themes," says director Levy. "It's almost as if this play is a look at today's America. It's astonishing."
West Coast premiere of "Baby Doll" adapted by Pierre Laville and Emily Mann from the screenplay by Tennessee Williams, is being presented at the Fountain Theatre, 5060 Fountain Ave., Los Angeles. Tickets are $30-$35 with $25 seniors and $20 students. Rush tickets are $15 at the door, 15 minutes to curtain, subject to availability. Pay-what-you-can every Monday night. To purchase tickets call 323-663-1525 or go to www.fountaintheatre.com. Williams aficionados who want to see both rarely produced plays can take advantage of a special offer and purchase tickets to both plays for the single price of $40 using promo code 2XTENN.