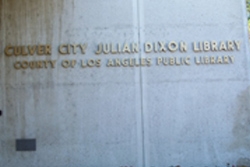 In celebration of Culver City's Centennial, Culver City Mayor Jim Clarke will take part in a special story time at the Culver City Julian Dixon Library at 7 p.m. Tuesday, Aug. 9 at 4975 Overland Ave., Culver City.
Clarke will read the children's counting story, "One Hundred Hungry Ants," by Elinor J. Pinczes., in the library Community Room.
"This fun tale should get us all in the mood for the 100th birthday of Culver City," said a representative of the Culver City Frienda of the Library, sponsors of the event.
Clarke will have an opportunity to give an update on some of the planned festivities for the year-long celebration.  A "fun" 100's themed craft will follow the storytime.
Admission is free.
Culver City Friends of the Library can be reached at  www.ccfol.org  310-559-1676. For ADA accommodation, call 310- 830-0231 (voice) or 310-830-4532; (TTY) Monday to Friday at least six days prior to event