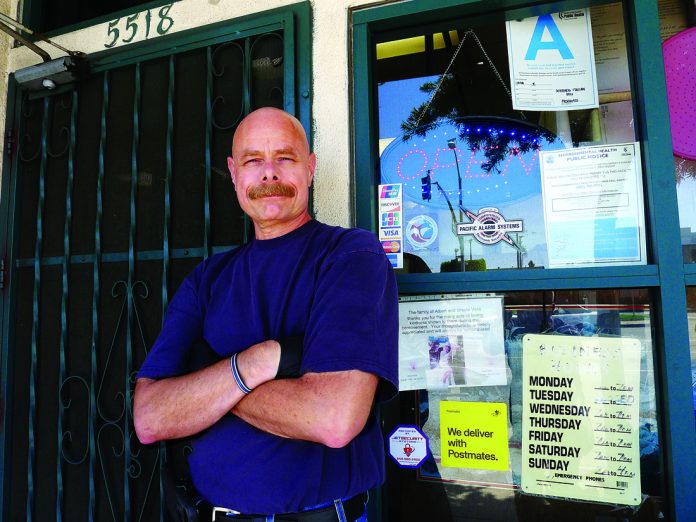 Sorrento Italian Market is more than a survivor. The business represents what it means to be family-owned and successful. Some might call it the "independent spirit."
As with many stories of immigrants coming to America for a better life, the market is rooted in dreams and self-reliance.
In 1950, Albert Vera Sr. immigrated to New York from a small town near Naples, Italy. At the time, he was just 15 years old.
Twelve years later, he left New York for California, and settled in Culver City. Soon after, his entrepreneurial spirit led him to start his own business. As the story goes, he bought a white van and took his rolling refrigerated deli market to the community.
Vera Sr. hit the jackpot twice in 1963, marrying a pretty German immigrant named Ursula and together they opened Sorrento's Italian Market.
Fifty-seven years later, Sorrento's continues to be a staple in Culver City. The market is now under the watchful eye and operation of son, Albert Vera Jr.
The store, located at 5518 Sepulveda Blvd., is open for business six days a week, although online orders are temporarily suspended, according to the company website.
While Sorrento's specializes in Italian deli fare, groceries, wines, and kitchen accessories, there is also a broad selection of products from other countries around the world and the USA, the website says. Fresh bakery goods are available each day, and fresh fruits and vegetables are on sale from Vera Ranches when in season.
In its near 60 years of service, Sorrento's has weathered many storms, internal and external.
"There was a fire in the store in the early '80s that was definitely our biggest crisis," Vera Jr. recalls.  "With generous support from the community, we were able to reopen in relatively short order. Having spent much of my life here, many events — like earthquakes, the LA Riots [of '65 and '92] and 9/11 — I have experienced while working here at the store."
He knows that the COVID-19 virus is a different challenge because it of its global impact. 
He mentions that his market has made adjustments during the pandemic. Such as complying with city-mandates, including his workers wearing protective health masks and gloves all day.
As with other food product outlets, business at Sorrento has been brisk since the outbreak, Vera says.
"It has been more intense, exhausting at times. But in many ways more fulfilling" he says. "We are all good so far."
His customers these days are looking for more "staple" items that they can't find consistently in other stores, he says.
"We are going through popular items like pastas, sauces, canned goods, Italian flours, and dried beans much faster than usual, but we have largely been able to keep things in stock," he says.
Purchasing habits have changed a bit, Vera has noticed. He says people are searching for a wider variety of products these days. Some items he can barely keep on the shelf.
"It seems every customer that comes in picks up at least a package of pasta… and a bottle of wine," Vera says with a chuckle. "Our lunch crowd is different since the lockdown, maybe a little slower, but we still sell a good volume at the deli counter." 
Sorrento's pasta inventory, in fact, has been like nothing Vera has seen before.
"We have probably ordered and sold more pasta in the past month than we did in the entire prior year — no joke," he says. "It seems everyone is baking, and we can hardly keep 00 flour in stock for pizza."
Likewise, he adds that wine sales are way up.
Sorrento's regular customers sometimes chat with Vera, sharing their concerns for the months to come; about food insecurities, financial insecurities, and wondering what the recovery will be like… and when it will happen. 
As with most people, Vera says his personal life has been a series of changes and challenges since March. He misses not seeing family and some friends, who have remained in self-isolation. 
"I'm still going to the (Vera family) ranch as often as I can – spring is a very busy time there," he says. "I do miss seeing my Aunt at the store, but it is important she remains vigilant with her social distancing. In fact, I miss many of our regular customers who have had to stop coming into the store for one reason or another."
Besides the impact of the coronavirus pandemic, Vera says Sorrento's has some "positive" alterations planned for the near future.
Changes will include an update to its beverage refrigeration cases and a rethinking of the beverage offerings. Vera says he hopes to eliminate the sale of all drinks in plastic bottles by the summer of 2020. He believes that plastic elimination is "terribly important for us to do." 
"I am a big believer in sustainability, and we need to do what we can to safeguard the planet for the future," Vera says. "Once we get past the pandemic, I also have new ideas for our dining area in the back that includes a mural by an artist couple that shops here."
Vera, who plans another run as city council candidate this year, says Sorrento Market has a history of giving back to the community. He says this outreach still holds true during the coronavirus outbreak.
"We have always been active with donations of food to the community," he says, "but we are focusing now on donating food and dollars to established organizations (such as Back Packs for Kids, Upward Bound House and Grace Dinner) to serve our most vulnerable population in our community. I feel blessed to be in a position to help, even in the smallest way."
Vera says he hopes people will be changed by the pandemic "for the better." 
"That we will all realize we are strongest when we work together," he says. "There will be many challenges ahead, but perhaps they will be met with a greater sense of humility and cooperation, having faced together such an unforgiving foe as the virus."
There is a family code or motto that Vera remembers in tough times.
"My grandmother often used the Italian phrase, 'Meno male,' which translates literally to 'less bad,'" Vera says. "She used it when something good and unexpected happened as the result of adversity.  Kind of like 'every cloud has a silver lining,' but more pleasantly surprising. I think we will learn a lot of good things about ourselves going through this current adversity together. It will bring out the best in us. Meno male."
Visit Sorrento Market's facebook page at https://www.facebook.com/sorrentoitalianmarket/