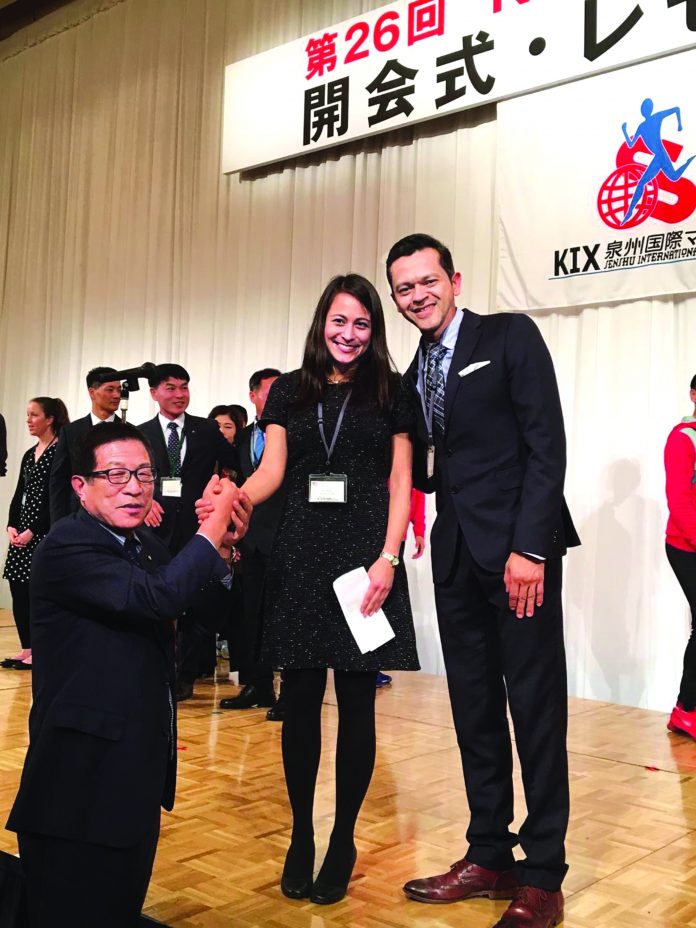 Galiano, Okawa represent Culver City Sister City in marathon exchange with city of Kaizuka
By Gary Kohatsu and David Winslow
Two local marathoners representing the Culver City Sister City Committee traveled to Osaka, Japan recently and conquered the challenging 26th annual Senshu Marathon with personal records.
Ricardo Galiano recorded a time of 3 hours and 21 minutes, while female counterpart Erin Okawa clocked a PR of 3 hours and 24 minutes, despite sustaining a hip injury.
The athletes were part of the annual marathon exchange between CCSCC and its sister city of Kaizuka. Two runners from Kaizuka will compete in the upcoming Los Angeles Marathon, as part of the exchange program.
Both American runners shattered their personal records by more than five minutes, which is an admirable feat considering the Senshu Marathon includes "two large bridges, which must be traversed twice after mile 20."
Galiano, who average 7:42 minutes per mile, marveled at having tackled and overcome the course challenges.
"This race tested me in ways I had never been tested before," Galiano said. "Climbing those two monster bridges, twice, at the end of the race required every bit of ounce of energy and determination I had left."
During the seven-day visit to Kaizuka, Galiano and Okawa were given "the highest level of hospitality with City tours and home-stays," a CCSCC rep said.
Tours included meeting the Kaizuka City Council, and dinner with Kaizuka Mayor Tatsuo Fujihara.
As sister city guests, Galiano and Okawa were shown cultural highlights in areas of Japan, including Nara, famous for its friendly deer, and Kyoto, with its gorgeous landscape and shrines.
"This trip was nothing short of extraordinary," Galiano said. "The city of Kaizuka and its people's hospitality, kindness, and attention to detail were truly amazing. I will cherish this experience for the rest of my life."
Okawa expressed similar feelings.
"The country is so beautiful, and the people so kind," Okawa said. "I had a wonderful time, and memories for a lifetime."
As part of the pageantry of the marathon, a banquet was held the night before the marathon to encourage all the visiting marathon runners — from other sister cities around the world — who were invited by neighboring cities of Kaizuka.
Erin Okawa, who was born in Japan and moved to America when she was 4, was asked to give the "Runner's Speech."
She spoke about carrying on the legacy started by her grandmother, who was a competitive runner in Japan, and thanked the many people involved in organizing the event and this sister city exchange.
The exchange is sponsored in Japan by the Kaizuka International Friendship Association (KAIFA), which works closely with CCSCC and Culver City's El Marino Elementary School and Japanese Language magnet programs.
Both Galiano and Okawa will be able to return the hospitality, as they host two Kaizuka runners for the upcoming L.A. Marathon on March 24. CCSCC will also host several meet-and-greet events with the Japanese runners.
For more experiences, visit the CCSCC Facebook page; and the website at CulverCitySisterCityCommittee.org.