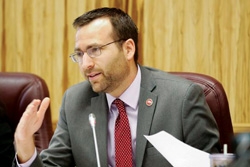 Sen. Ben Allen (D – Santa Monica) released the following statement March 1 in response to 31 bomb threats received by Jewish community centers (JCC) and schools on Monday,  Feb. 27) including at the Westside JCC in his district:
"On Monday, Jewish Community Centers and Jewish Day Schools around the country were victims to a fifth wave of bomb threats since the new year. To date, more than 100 such threats have been made to Jewish institutions in 2017, including five in California and one in my district.
While none of these threats proved credible, they are real attacks against the Jewish community—they disrupt life as usual and stoke fear nationwide. Additionally, in the last two weeks, Jewish cemeteries in St. Louis and Philadelphia were vandalized, with hundreds of gravestones damaged.
"I am deeply disturbed by the anti-Semitic dog whistles from newly empowered white nationalists and the subsequent rise in anti-Semitic attacks in recent months. I intend to work with the legislature's Jewish caucus in my role as vice chair to provide safety and comfort to Jewish Californians in this frightening moment. Unfortunately, this type of hate is not new to our community, but we will continue to join together to resist hatred in favor of tolerance and justice.
"I am also grateful for the Muslim leaders who raised hundreds of thousands of dollars from their communities to restore the destroyed cemeteries. Their leadership and solidarity shows that our two communities share a common thread of justice and, in times of threat, we will unite and resist together. I commit to supporting continued coalition-building between the Jewish and Muslim communities and will remain a steadfast fighter for justice for both communities."