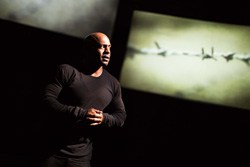 The Actors' Gang is presenting the groundbreaking multimedia production LYRICS FROM LOCKDOWN, a solo show written and performed by Bryonn Bain and directed by Gina Belafonte, which tells Bain's true story of racial profiling and wrongful incarceration at the hands of New York City police and how this experience led to a transformative friendship with death row inmate Nanon Williams. Bain weaves the voices of over 40 characters into an extraordinary, internationally acclaimed tour de force production featuring a live band, performing a fusion of hip hop, theater, spoken word, rhythm and blues, calypso and classical music, to tell Bain's story.
With February being Black History Month, it's the perfect time to experience Bain's story of being unjustly stopped and frisked outside of a NYC nightclub when he was a Harvard Law School student, and subsequently thrown into jail. Once released, Bain recalls writing poetry, rhymes, and what later became a cover story for the Village Voice.  His story, "Walking While Black," received the largest response in the history of the nation's most widely-read progressive newspaper.  Soon after, Bain's law school professor Lani Guinier suggested that he create a "hip hop opera." From there "Lyrics From Lockdown" was born.
The play introduces the audience to Nanon Williams, a young man who was sentenced to death at age 17 for a crime he did not commit. Nanon wrote Bain from Death Row after reading his story nearly a decade ago, and "his letters changed my life," Bain said. "He asked me to share his story and I was so moved by it that I weaved his letters into my play so you see how this young poet — unjustly robbed of his youth — is inspiring a global movement to free himself and others unjustly thrown into prison."
"Lyrics From Lockdown" is an important and necessary story told with a voice as fresh as today's headlines," said The Actors' Gang Artistic Director Tim Robbins.  "With poetry, musicians and striking visuals, Bryonn Bain and Gina Belafonte give us a first-hand look into racial profiling and a deeply flawed criminal justice system in a powerful evening of theater."
"Art and culture are creative tools to educate, organize and mobilize a movement. The criminal justice system has hit pandemic proportions and our level of engagement as a community is vital to bring solution and alternatives to this crisis," director Gina Belafonte said. "Bryonn Bain's play is an exemplary offering of the engagement of arts in activism and a vision of an equitable and transformative world."
I marveled at Bain's incredible energy and his amazing ability to portray multiple characters, and thoroughly enjoyed the music performed to perfection by extraordinary musicians Isaiah Gage (cello), John B. Williams (bass) and Click the Supa Latin (beatbox). Their often-dissonant cords really communicated the tension of the moment in several scenes, enhanced with incredible moody moaning from the cello. The awesome three-dimensional video design by Omolara Abode seemed to fill the room, immersing us into many frightening moments.
But I must tell you it was incredibly difficult to comprehend most of the words Bain was singing due to his quick hip hop performance style. So, for audience members not comfortable with this style of music, perhaps this may not be the best show for you to see for anything other than its presentation style which is top notch. It's just too bad so much of the story was lost on my ears.
"Lyrics From Lockdown" is produced by Sankofa.org, a social justice organization founded by Harry Belafonte that enlists the support of today's most celebrated artists and influential individuals in collaboration with grassroots partners to elevate the voices of the disenfranchised, and to promote peace and equality.  The production runs through Sunday, Feb. 26 on Thursday at 8 p.m., Friday at 9 p.m., Saturday at 8 p.m., and Sunday, Feb. 26 at 3 p.m. as part of the Season of Justice at The Actors' Gang Theatre, 9070 Venice Blvd. in Culver City.
General tickets are available for $34.99, with $30 senior and student tickets. Thursday evenings are "Pay-What-You-Can." For tickets, please call 310-838-4264 or visit www.theactorsgang.com to purchase tickets online or to view the complete schedule.  The Actors' Gang Theatre is located at 9070 Venice Blvd., Culver City.