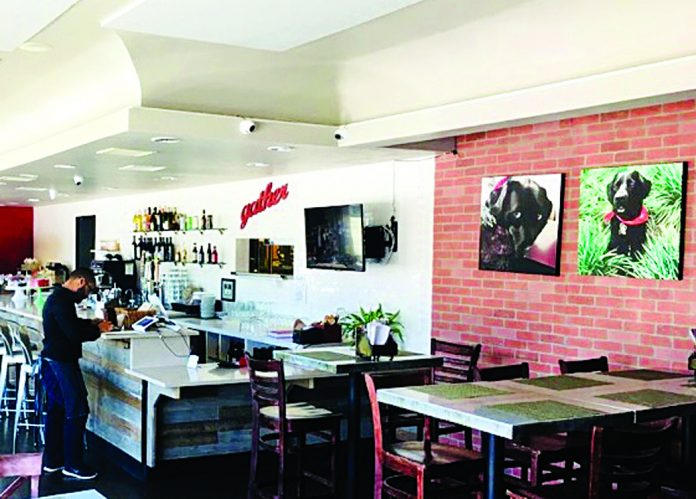 I visited Rocky's Food and Beverage on Sepulveda near Braddock, and the diverse menu of tacos, burgers, salads, and desserts are intriguing. There is an attractive modern bar serving a wide selection of wine and beers. A weekend brunch offers items such as chicken with waffles, chocolate chip pancakes, and bottomless mimosas.
Rocky's is named after a beautiful black rescue dog taken in by owner LeAnne Schwartz and her husband Steve, in 2016. Large canvas pictures of Rocky hang on the wall making it obvious who is highly regarded here.
I was treated to the Jicama and Green Apple salad. Appearing as if carefully selected from a vegetable garden, fresh leaves of arugula and spinach were piled high on my plate. The buttery avocado was generously placed on top and tasted perfectly ripe.
Orange vinaigrette was offered as an alternative to a serrano lime vinaigrette and I was grateful to have a non-spicy option. The intense citrus flavors permeated the thinly-sliced jicama and green apple slices so much that I literally could not tell them apart.
Juicy, sweet mandarin slices went together nicely with the peppery baby arugula leaves. I detected a hint of parsley and would have loved a bit more. Generous amounts of buttery avocado nicely complimented the salad.
Feeling adventurous, I chose to add jackfruit to my salad, which turned out to be one of the most memorable and enjoyable foods on the plate. Webster defines jackfruit as a large tree with immense fruits. Highly nutritious, this tropical tree is native to India. It is used in recipes for everything from dessert to a meat substitute with seasonings used to flavor shredded pork.
To my surprise, the jackfruit had a kick to it. Appearing as shredded pork, the staff stated the spiciness was from chili adobo seasonings and dark chili powder. It looked so much like meat, that I literally thought I had the wrong order. I loved that the jackfruit mimicked shredded pork or chicken. It was savory and the texture was slightly chewy, yet soft and full of flavor.
There are so many scrumptious sounding foods on the menu, I will certainly be back to try the brunch or dinner items.