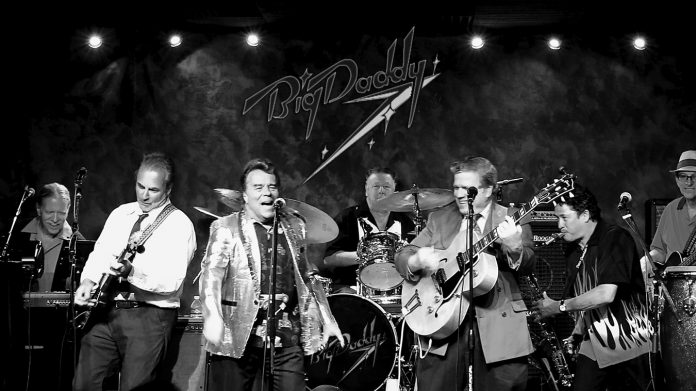 By Gary Mandell and Gary Kohatsu
The Court Jesters of Rock & Roll return to Boulevard Music on Saturday, June 3h at 8 p.m., transforming the venue into a magical time tunnel where Top 40 hits sound as if they came blasting out of a 1950s jukebox (Imagine The Bee Gees mega hit, Stayin' Alive as it might have sounded if recorded in 1959 by The Coasters).
The Rhino recording act, BIG DADDY, stormed the UK charts in 1985 with their Top 20 version of Bruce Springsteen?s Dancing in The Dark. They have released six LPs to date: "Cutting Their Own Groove" and "Sgt. Pepper?s" have both placed on Stereophile Magazine's "Records To Die For."
BIG DADDY continues to amaze audiences with outrageous renditions of Pop & Rock standards. Their 2015 release "Smashing Songs of Stage & Screen" and the addition of newer works by Taylor Swift and Bruno Mars, make this band both relevant and timeless.
The News had to fly around the globe twice in search of Bob Wayne of Big Daddy. We finally found him on the corner of Sepulveda and Culver boulevards. Regardless, it was worth the trip.
Here is what Wayne had to say about the band.
1) When did you start playing and writing music, and when did you start taking it seriously (playing live, recording, etc)?
Though we were a '50s oldies' band throughout the 1970s, our concept of playing pop hits in the style of the 1950s actually started in the early 1980s with the release of our first album ("What Really Happened to the Band of '59") on Rhino Records.
We recorded this and all subsequent albums here in Culver City at Sunburst Recording.
2) Who are your main influences?
We consider the pioneers of '50s Rock 'n Roll to be our main influences, including Chuck Berry, Elvis, The Everly Brothers, Little Richard, Buddy Holly, Duane Eddy, Fats Domino, The Coasters, Dion and the Belmonts, among others.
3) Describe your own style…
We were a Mash-Up band before the term was coined… transforming Pop hits into hilarious 50's classics.  Descriptions of Big Daddy's style have included "The Court Jesters of Rock & Roll," "The Mash Up Kings of Rock & Roll" and "The Spike Jones's of Rock & Roll."
Here are some quotes from previous press articles:
"More than a gimmick, Big Daddy created new takes on Pop and Rock songs that were consistently inspired, illuminating and often hilarious."
– Randy Lewis, L.A. Times
"Big Daddy has recorded the Beatles Sgt. Pepper's…in its entirety. The result is the novelty album of the year, if not the last 25 years."
– Stereo Review
"Big Daddy won our hearts with their hilarious Doo-Wop treatment of
Springsteen's "Dancing In The Dark" on the "Whistle Test."
"The best thing about Big Daddy is their air of inspired irreverence."
– Melody Maker, UK
"A stroke of genius…songs that had been suffocated by pompous
arrangements suddenly took up their beds and walked."
– New Musical Express, UK
"At their best, Big Daddy's songs are a work of art in their own right capable of devastating musical arrangements and astonishing harmonies."
– The Sidney Morning Herald, Australia
4) Where are you based? What do you think of the local scene?
All seven of the current band's line-up are based in the Los Angeles area. The scene here is pretty active in the hip downtown and Echo Park area, but the westside has few venues appropriate for our type of show band.
5) Best gig to date? And worst?
We toured the UK twice in 1985 when we had a national top 20 hit there…a version of Bruce Springsteen's "Dancing In The Dark."  It was an amazing adventure that took us across England to perform live and also a number of TV shows, including the legendary "Whistle Test" and "The Kenny Everett Show."  We have also toured Australia, Germany and many U.S. cities, such as New York and Chicago.
As far as the worst gig…early on, we played weddings and they generally are very mediocre at best.  There is nothing worse than dealing with the mother of a bride on the wedding day! Las Vegas (i.e. The Tropicana) provided steady income but was a grueling six nights /three shows a night grind.
6) Do you have any albums/singles available?
The band has released six studio albums to date starting in 1983. The first five of these were on Rhino and the most recent, 2014's "Smashing Songs of Stage & Screen,"  is on RockBeat Records.  We have also released many singles and EP's worldwide, along with countless cuts that have ended up on compilations
Most of this material is available as digital downloads and streaming from major internet sources such as Amazon, itunes, and Spotify.  Unfortunately, only our most recent album is still available on CD, and will be sold, along with vinyl of our first two albums this Saturday night.
7) Have you played Boulevard Music before? How did that connection happen? How did it go?
I (Bob Wayne) have known Gary Mandell for many years and have attended countless shows at Boulevard Music.  When we revamped our live show, three years ago, it was high on our list of places to play for its cool vibe as an intimate listening environment.  They also have great sound and a great sound man (Mike Meyer), which is always a priority for us.  This will be our third show at Boulevard.  Note: the first two shows sold out.  We also appeared at Gary's Culver City Summer Concert Series in 2016.
8) What can we expect from your upcoming performance?
The band is visually very wacky and interjects many comedic elements into the show, including a slew of props and comedy bits related to the songs and influences. Our comedic elements, however, never sacrifice the authentic musical elements of the performance.
9) What do you have planned going forward, after this show, for 2018?
We have been working on a radio show for the past few months called "Band Out Of Time" that will be released as a radio episodic serial.  It harks back to the radio presentation of Orson Wells and his "War Of The Worlds."
We are also very excited about our new video which was recently released on YouTube.  It puts a Bluegrass/"Hee Haw" spin on the Bruno Mars song "Uptown Funk"
For additional information, email Bob at bob@sunburstrecording.com
Big Daddy will perform from 8 to 10 p.m. this Saturday at Boulevard Music, 4316 Sepulveda Blvd., Culver City.
Online tickets sales close at 6 p.m. the night of the show.  Any remaining tickets are for sale at Boulevard Music when doors open at 7:30 p.m. unless noted otherwise.  Tickets may also be purchased in person at Blvd Music or by phone 310-398-2583 using a major credit card.
A $1 service charge per ticket is added to online and phone orders. All ticket sales are final. They are non-refundable and non-exchangeable. For online ticket purchases, you will need to provide the ticket barcode for entry. Print your ticket or display the barcode on your phone.
Note that all shows start at 8 p.m. and doors open at 7:30 p.m. unless indicated otherwise. People who already have their tickets (purchased them in advance) get in first when doors open at 7:30 p.m. After the people who already have their tickets are admitted any remaining tickets will go on sale.
Also, taking photos or any other type of recording is not allowed during performances at Boulevard Music.