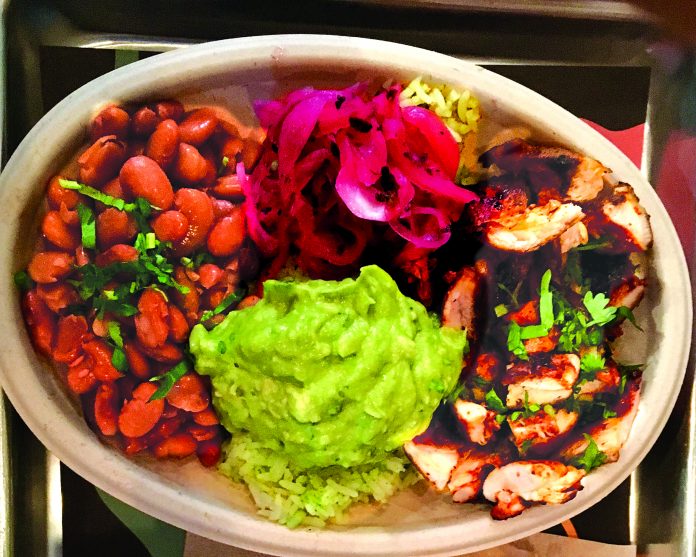 When hunger kicks in and you aren't willing to wrestle with complicated food choices, relax because Loqui offers just the right amount of unintimidating meal options.
Sweetgreen and Soul Cycle are a few of the businesses located in the Platform, the trendy retail complex where you'll find Loqui.
The modest and no-frills décor with tables set close together implies a get your food quickly, eat and move on, feel to the place. Described as fast-casual food, at least in part due to the counter service, this taqueria was founded in San Francisco in 2014.
The wait is limited since the line moves along quickly. The food is prepared and cooked behind the counter where focused cooks grill and season pork, chicken, beef, and vegetables.
Being new to Loqui, we ordered the chicken primo with corn tortillas, which is basically an unassembled taco. The chili-flavored chicken was somewhat charred but enjoyable. The pinto beans and onions were tasty, and the guacamole had a creamier consistency than expected.
The best thing on my plate, however, was the delicious cilantro rice. My friends were happy with the vegetarian primos that were made up mostly of sautéed mushrooms, but they raved about the hand-made flour tortillas.
Beverages you would expect like lemonade and Jamaica soda were available. There was also Coca-Cola imported from Mexico which is especially popular now due to the fact that it does not contain high fructose corn syrup and some say they like the taste better. I was pleasantly surprised, however, to see wine on the menu.
It soon became apparent that Loqui is different than your typical taco stand food. How about a glass of Cabernet Sauvignon with your taco? Or, would you prefer a white wine from Baja's Casa Magoni? The staff stated that Modela Negra supplies one of the beers offered.
Be prepared to have your credit card handy as cash is not accepted. There is parking nearby at a garage on Landmark Street and Washington Boulevard and limited metered parking.