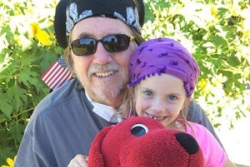 Michael VonHulsebus served in the Army between the ages of 21 and 23. His service with the military required him serve with the Pentagon as a graphic illus-trator where he was responsible for preparing presentations for chief of staff briefings and congressional meetings subcommittee meetings. Today, he sits in the VA hospital in Long Beach two years into his ALS diagnosis waiting for a chance to go home. The once active and artis-tic father, husband and grandfa-ther can no longer walk without assistance. So returning to a two-story home wasn't an easy solution.
Seeking a solution to the dilemma at hand, Michael and his son Nichlaus VonHulsebus figured it would be easy to convert the townhouse's garage into a living space. Since the parking unit is at ground level, converting the space into a living compartment would facilitate leaving and entering the building for Michael. Unfortunately for the Army veteran and his family, the City of Manhattan Beach denied the permits to make such adjust-ments to the home, forcing him to stay in the VA's 24-hour care facilities.
"We put him there and had in mind it would take about thirty days, to get everything done," Michael's wife Sharon VonHulsebus said. "We figured by Thanks-giving he would be home."
There are countless cases in which veterans are staying at their local VA because of illness, injury or simply because they are unable to receive proper care at home. In contrast, there is no shortage of veterans that are waiting for the VA to process their claims to receive treatment or other such benefits. However, in VonHulsebus' case the VA is ready to proceed but a local ordinance where he lives is stalling his return home.
In Michael's case, the VA agreed to pay for all cost associated with the conversion of the garage into a living space. However, due to a municipal code that requires all condo-style homes to provide two enclosed parking spaces and one guest space, his request is being denied. Despite the willingness of the VA to pay for all expenses for an army veteran in need, City of Manhattan Beach Assistant Planner Ted Faturos stated via email that the city was unable to grant a permit that would convert a conforming dwelling into a nonconforming dwelling, regardless of the reason.
"Everything was good to go so I walked in and asked what I needed to do to get the permit and they said no; No," Sharon said. "They need to change this ordinance; period. You should not be forced out of your home."
Faturos and the city did recommend installing an elevator. The city has allowed for eleva-tors to be installed in homes in the past and it is a process that does not require a permit such as converting a garage.
"I didn't tell Michael for a week what happened that day. I was worried about him becoming depressed," Sharon said. "Depression could really make things worse with this disease. When it all started he would say he was going to die in there and never going home. I told him that I didn't care what we had to do, but he was coming home."
Faturos also recommended pneumatic elevators, which he described as easier to install than traditional elevators.
"The elevator was one of the first things we thought about; we weren't even thinking about the garage," Sharon said. "When they came out and did all the measurements, they discovered that there is nothing they could do in the townhouse to install the garage."
Still, the contactor hired by VA and the money they committed to provide are on standby and ready to begin the process of converting the garage. Michael has been in the VA since July and the process to bring him home has been ongoing since late October.
"I told him I was going to fight it," Sharon said. "Michael has since said that if Manhattan Beach won't do this, then we have to sell the house and move. We have been in this house 16 years. We should not be forced out of our house.
"I need to get him home by January," Sharon said.