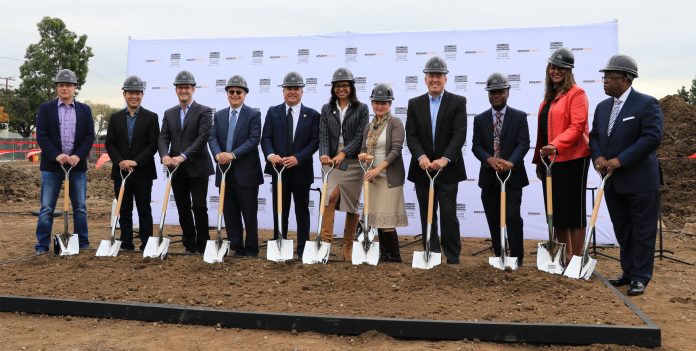 By Jonathan Smith
Officials and dignitaries broke ground Monday on five new buildings at The Culver Studios, the century-old studio that housed shows like "Lassie" and "Arrested Development."
The new look will help modernize the studio. The campus would grow roughly 358,000 square feet, officials said.
The group also announced that Amazon Studios agreed to expand its operation at the studio location. The online retail and media giant already uses the lot to house its studios.
"We're thrilled with Amazon Studio's commitment to The Culver Studios as its anchor tenant—it's the ultimate validation of all the hard work our company and the City have put into the campus' redesign," said Michael Hackman, CEO of The Culver Studios and founder and CEO of Hackman Capital Partners, which owns the studios through an affiliated entity. "The Innovation Plan will usher in a new century for the entertainment industry with world-class space, technology, and studio support systems, all while preserving our legacy."
The legendary studios, founded in 1918 by producer Thomas Ince, housed filming for several classics like "Gone with the Wind" and "Citizen Kane."
Culver City officials, including Mayor Thomas Small, were on hand Monday to offer support of the project.
The expansion plan was broken up in two phases. The first phase, which included a facelift of the iconic "Gone with the Wind" mansion, was completed earlier this year. The second phase is expected to be completed by early 2021.