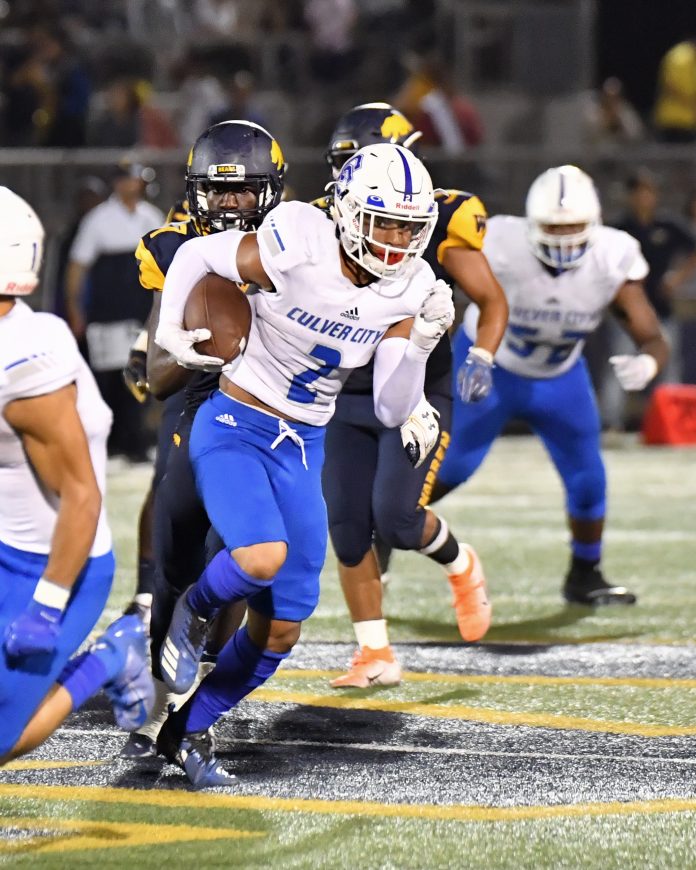 For the first time this season, the 3-0 Culver City football team will host a varsity football game against a good 3-1 Palos Verdes team on Friday at 7 p.m. inside the Jerry Chabola Stadium on the high school campus. Last year, Palos Verdes beat the Centaurs 37-36 at Palos Verdes. Culver City is looking to return the favor in 2019.
The Centaurs will go into the game with one of the most prolific offenses in Southern California, but don't overlook Culver City's defense. They are also playing at a high level, but like most football teams at any level, the offense gets the headlines.
The offense has scored over 50 points in their first three games this season, and last week they beat a good Warren team 56-28. Although the offense has outstanding players at every position, quarterback Zevi Eckhaus is the key to this offensive machine.
Eckhaus has excellent receivers and a very good offensive line and he knows it. "It feels great," said Eckhaus after the victory over Warren. "It's hard for me to describe the feeling. I have talented receivers and when we substitute I have another guy coming in and that's why we are such a great football team. I am learning the game every day and I am just trying to get better. I owe everything to my coaches, my receivers and the offensive line for protecting me. It's not just me it's the whole team." Eckhaus has thrown for 16 touchdowns, 1168 yards and only two interceptions in three games.
Although Eckhaus has seven or eight productive weapons to throw the ball to, his top three receivers right now are Chris Miller, Tanner Duve and Makai Cope. Miller has caught 19 passes for 490 yards and eight touchdowns. Duve has 14 receptions for 276 yards and four touchdowns and Cope has 217 yards receiving for two touchdowns.
"It's a blessing," said Miller last Friday night at Warren. "I give a lot of credit to our coaches and especially coach (Michael) Hooper. Honestly, it's great play-calling by the coaches and I have a great quarterback in Zevi. He's underrated and under the radar, but he is really good. He puts the ball right where I need it to be. We definitely have a connection there."
Culver City's head football coach Jahmal Wright had this to say about Miller. "How about Chris Miller? I have been telling college scouts all year that he is the best receiver in the Los Angeles area. I don't think anybody can cover him."
Duve also enjoys playing in a pass friendly system. "It feels great playing with a quarterback like Zevi.  He takes a lot of pressure off of us. He does his thing and we do our thing. It's good because we have confidence in each other. Everyone does their job." Duve is also the star center fielder for the baseball team.
Culver City's defense has also played well this season, and one of the reasons why is Isaiah Williams. The 6'0", 185-pound senior linebacker is one of best players on the defensive side of the ball. "It feels good being one of the leaders of the defense," said Williams. "I have to set an example for other players. Being a leader is something new to me. I am learning and working hard. We are unstoppable right now."
Wright was happy to pull away from Warren last Friday night at in Downey. "We have a great coaching staff and we made some adjustments at halftime and we were able to come out in the second half and enforce our will on them. I was happy that we were able to score almost every time we had the ball."
Wright knows the game against Palos Verdes Friday night should be an exciting high school football game.  "We had a great game with them last year so we will be trying to avenge that loss."