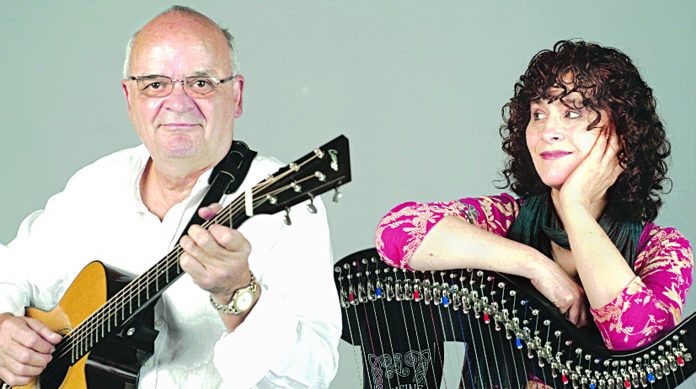 Musicians will make their first appearance at Boulevard Music Saturday night
Chris Newman and Máire Ni Chathasaigh "have performed at more than 175 folk, Celtic, arts, harp, and guitar festivals in Europe, the USA and Australia, and Asia. And have given almost 2,000 concerts in venues from the tiniest of historic churches in England, Germany, and Italy to palaces in Kyoto and Istanbul, London's Barbican, Sydney's Town Hall and the Philharmonic in Cologne," according to Boulevard Music's online promotion of the musicians.
As a duet, they have one of the most distinct voices in modern acoustic music. They will bring this unique musical quality to Culver City on Saturday when they perform at Boulevard Music from 8 to 10 p.m. at 4316 Sepulveda Blvd., Culver City. Tickets are $17.50. Call 310-398-2583 or log on at https://www.boulevardmusic.com/events/
Newman is considered an accomplished acoustic guitarist, who happens to be a "prolific composer, arranger and record producer.
Maire Ni Chathasaigh is considered one of Ireland's most influential traditional musicians, described by the late Derek Bell of the Chieftains as "the most interesting and original player of the Irish harp today" and as "the greatest Celtic harper of our age" by Live Ireland. She has been playing the harp since age 11.
She won the All-Ireland and Pan-Celtic Harp Competitions several times and in 1985 recorded the first harp album ever to concentrate on traditional Irish dance music. In 2001, Ni Chathasaigh received Irish music's most prestigious award, that of Traditional Musician of the Year.
The News caught up with the musical pair and they shared a little of their upbringing and influences.
"Chris started playing the guitar at the age of 4 and had decided to make it a full-time job at the age of 14. By that time he was already playing quite a few gigs in local folk clubs etc. Within three weeks of leaving school at 18, he'd joined a band and was rattling around Germany in a Ford Transit van shortly after that.
Máire started a little later – at 11. She learned classical music alongside the traditional Irish music with which she's now associated.
Chris said his "main influences" were almost every guitarist he had ever heard. "It's possible to hear someone who isn't really much good, but I might hear just one phrase that I can use elsewhere."
About his musical style, Newman said, "I've always been interested in playing lots of different styles and have never really fit into anything particular. For the first 10 years, I played mostly fingerstyle – ragtime. Etc. – but then discovered the plectrum and become heavily involved with swing jazz.
"Playing with Máire means I had a great deal to learn about traditional Irish (and Scottish) music, then in recent years (since 2003) I've been a regular instructor at a well-known bluegrass summer camp in Tennessee."
We live in a small town in Yorkshire in the north of England.I know nothing of the local music scene as we're seldom here," Newman said with a chuckle.
Both have experienced some memorable gigs in their travels.
Including, "the Shogun's Palace in Kyoto, Japan, which was pretty neat, as was the Ottoman Palace in Istanbul, Turkey. There really are too many highlights to list!
As for worst gigs, that's much easier Newman said.
"Playing for a crowd of about 1,000 at an English holiday camp while they were having lunch. We actually followed four guys on stilts, who were dressed in Sgt. Pepper uniforms, who mimed to the title track of that record. Mmm…."
The musical pair have quite a few recordings on their resumes.
" We've made seven albums together, plus other solo CDs," Newman said.
Saturday's show will be their first appearance at Boulevard Music.
"And we're looking forward to it!" Newman said.
He added that the audience should get ready for an eclectic blend of music.
"A mix of traditional music from Ireland, Scotland, north and south America, self-penned compositions and occasional forays into swing and old-time," Newman told the News.
Moving forward in 2019, Newman said they will be touring quite a lot.
"We're touring the west coast of the USA for a couple of weeks and fly back to the UK from Seattle in April," he said. "Four days after getting back we embark on our spring tour in the UK."