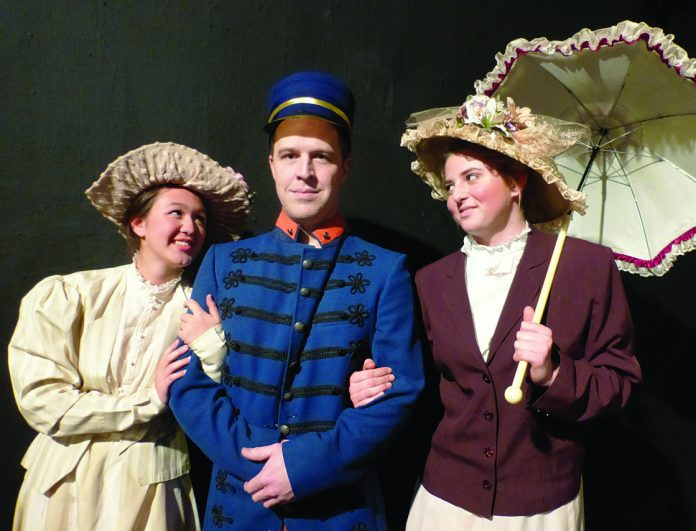 Kentwood Players presents award-winning stage production through April 20
By Allison Boole
Kentwood Players presents the musical "Sunday in the Park With George," with music and lyrics by Stephen Sondheim, book by James Lapine. Performances started March 15 and will continue to April 20 on Fridays and Saturdays, at 8 p.m. and Sundays at 2 p.m., at the Westchester Playhouse, 8301 Hindry Ave., Westchester.
The production is directed by Susan Goldman Weisbarth, music direction by Mike Walker and produced by Margie Bates and Gail Bernardi for Kentwood Players, under special arrangement with Music Theatre International.
Featured in the cast in alphabetical order are Rachel Berman, Kate Eberle, Martin Feldman, Bouket Fingerhut, Savannah Fischer, Janet Krajeski, Vincent Paz Macareno, Genevieve Marino, Alex Norwick, Fiona Okida, Roy Okida, Brian Pirnat, Shawn Plunkett, Don Schlossman, Michele Selin, Jennifer Sperry, Rikki Walker, Dana Weisman
Winner of the Pulitzer Prize for Drama, the Drama Desk Award for Outstanding Musical, the Laurence Olivier Award for Best New Musical and multiple Tony Awards, "Sunday in the Park With George," was inspired by the life of French pointillist, George Seurat. The plot revolves around the creation of his masterpiece, "A Sunday Afternoon on the Island of La Grande Jatte."
George, an intense and passionate artist, struggles to not only create his paintings but also to maintain a relationship with his long-time mistress, Dot.
The second act connects to the first while focusing on another George, Seurat and Dot's great-grandson, also struggling to find meaning in art and the need to connect to the past, present and future. "A white canvas, so many possibilities."
Reserved seat tickets are $27 with a $2 discount for seniors and students. To purchase tickets, please email the box office at boxoffice@kentwoodplayers.org or call 310-645-5156 during box office hours, Wednesday through Saturday from 4 to 7 p.m. Ther box office gets a large number of calls. Please note that all voicemail messages will be answered in the order they are received. Tickets can also purchase online at www.kentwoodplayers.org. For group ticket sales of 10 or more, call the box office for group rates.
For more information about Kentwood Players including our current production, visit the Kentwood Players website at www.kentwoodplayers.org.
You can also find Kentwood Players on Facebook, Twitter and Instagram.
To meet the "Sunday in the Park With George" production team and learn more about Kentwood Players and what goes on at the Westchester Playhouse, the public is invited to attend the Players' membership meetings, which are free and held on the third Wednesday of each month at 7:30 p.m. at the Westchester Playhouse, located two blocks west of the San Diego Freeway and two blocks north of Manchester at 8301 Hindry Ave.