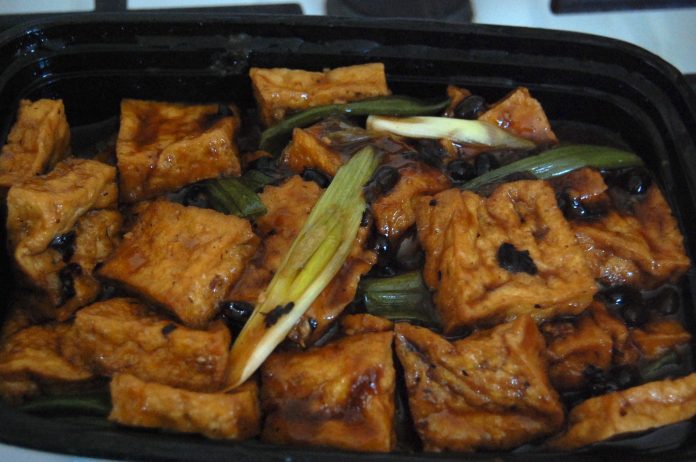 Sitting on the border of Los Angeles and Culver City, on an unassuming street, is New Flavors – a restaurant that prides itself on the fusion of Chinese and Hawaiian food. The flavors aren't exactly new – on the contrary, the food that New Flavors serves is rooted in tradition. Rather, it's the blend of cultures and indeed flavors that is so exciting.
The street that it's on doesn't feel particularly "happening," but it does feel like it might be soon. The super-hip Hotcakes Bakes bakery is just a few doors down, and a review of that will be available to read in these pages soon. They say that a surefire sign of a neighborhoods on the rise is the addition of cupcakes.
The interior of New Flavors is coming from the Chinese end of the spectrum more than Hawaiian. Lanterns decorate the ceiling, windows are decorated with trees – it has a beautiful, East Asian vibe. But one glance at the menu, and the Hawaiian barbecue bounces out. Temptying meats with steamed rice and macaroni salad – it sounded amazing but we resisted in favor of some healthier fare.
We went with two different tofu dishes, each with a tantalizing name. Bean Curd A La Peking is a rather odd but fascinating way of saying "spicy tofu." The dish is wonderful though – triangles of tofu have soaked up a tangy sauce with a bite, while vegetables including bok choi and broccoli enhance the taste. The combination is a winning one.
Better still is the Bear's Paw – that might sound like it's going to be a donut or something, but it's absolutely not. Rather, it's "tofu in black bean sauce." Quite why they went for that name is anyone's guess. But the squares of tofu in the rich black bean sauce are magnificent. Tofu is renowned for its spongy qualities. Its own flavors are extremely subtle, but it soaks up whatever flavors it's marinating in. In this case, the black bean sauce brings the tofu to life.
Away from tofu, we had the Shrimp with Broccoli, and again that was a great choice. A generous portion of plump shrimp and fresh broccoli sit in a delicate but flavorful sauce. Everything pairs perfectly with their egg fried rice, and we recommend their veggie egg rolls as an appetizer – crispy and delicious.
Overall, everything we tried was great and we have no reason to think that everything we didn't try wouldn't be great too.
New Flavors is located at 4135 S Centinela Ave, Los Angeles 90066. Call 310-390-7849 or visit the website.