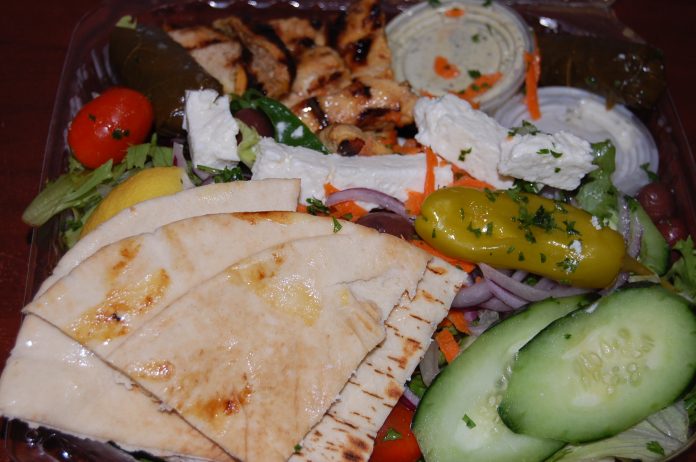 "With a flavor bank of extensive spices and a wide range of Items to choose from, you are unlikely to run out of options," Mykonos Greek Grill's bio reads. "A lot of care and responsibility has gone into making our menu list. Combat your boring days with interesting flavors assured to steal your heart away. Make your every meal an interesting experience."
That's actually pretty on the nose. "An interesting experience" is the least we should expect when eating out and, while Mykonos serves every Greek dish you would expect from a high street Greek restaurant, there's enough of a flourish to make it a shade beyond the norm.
Take the Greek Chicken Salad, which is what we went for. You just can't beat a good Greek salad and, while you have to watch the feta cheese, pita bread and dressing, it can be a healthy, delicious choice.
Such is the case here; the greens are crisp and fresh, as are the slices of cucumber. That's the crunchy base, then we get the tart red onions and sweet, petite roma tomatoes. Shredded carrot and pepperoncinis complete the vegetable portion (we know, some of those things have seeds and are in fact fruit, but you know what we mean).
The hunks of feta are to die for. Strong in flavor and soft in texture, you don't need a lot of it on your fork to really boost the taste of a salad bite. We didn't finish about half of our cheese, simply because of the calorie count. But that's a judgment call – it's certainly too good to waste.
The chicken, grilled Greek-style, is magnificent. Charred in all the right places, juicy on the inside and seasoned to perfection, it's obviously the star of the show. The pita bread, meanwhile, is soft and fragrant. The dish comes with both a tasty Greek dressing, and creamy tzatziki. The bread is great for dipping.
The menu offers all sorts of Greek treats too, from gyros and souvlaki plates and wraps, to falafel and spinach pies. Baklava for dessert of course.
Ultimately, Mykonos Greek Grill has everything you would want from a Greek restaurant, and a little bit more too (there are American items, such as burgers, on the menu). The prices are very reasonable, and the service is great. There's literally nothing to complain about.
Mykonos Greek Grill is located at 11164 Washington Blvd., Culver City. Call 310-815-0888 or visit mykonos-greek-grill.com.