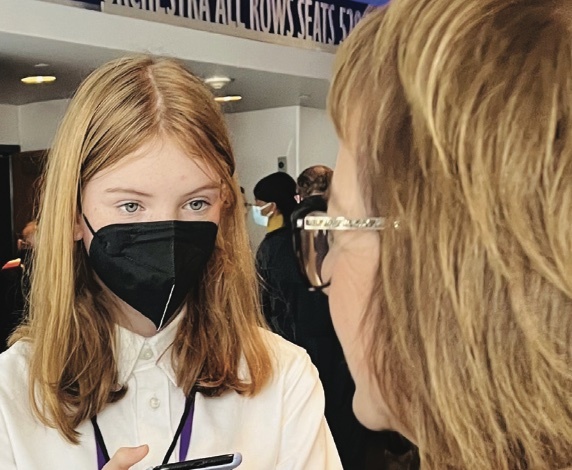 By Fiona McDonough Age 114
Kidscoop Media Correspondent
Karen Bass became the first woman, and second African American to be the Mayor of Los Angeles. Sunday, Dec. 11th, definitely marks a day to go down in L.A. history. Vice President Kamala Harris swore in Mayor Bass as the 43rd mayor of Los Angeles at LA Live's Microsoft Theatre. The inauguration was less of a formal event and more of a party celebrating this historic win for all women and people of color alike.
Anyone in Downtown Los Angeles could tell this event was one to be remembered. Cars lined the streets and almost every parking garage near the event read "Lot Full." When I stepped out of my car, I could almost feel the joy in the air. Hundreds of people in that parking lot had the same expression of excitement on their faces. When I reached the terrace in front of the theater, a crowd of hundreds, maybe a thousand people all waited excitedly to be let in. As I worked my way through the crowd to reach the press entrance, I noticed the people standing beside me. People of all different ethnicities, genders, abilities, and ages waited to enter. State senators and elected officials stood next to elderly men and women, even small children; but they were all united by their joy for this inauguration.
As a young person, being handed a press pass—and ushered in by secret service to a large lobby with loud music, drinks, and food—was a mind boggling experience. I walked by many people in this lobby, but by chance I ran into Senator Maria Elena Durazo. She was kind enough to give the time of day to a few young people holding phones and notebooks, and allowed us to interview her. When asked what advice she would give a young person facing the struggles of poverty wanting to go into politics, she said, "They should work in the community as much as they can before they decide to run." She continued, "People power is more important than money power. What Mayor Bass has proven to us more than anything is that you don't need to be a billionaire to win an election." As she finished, an announcement came over the intercom that the inauguration would now be starting.
Our group of kid reporters found our way to the back of the packed 7,100 seat theater and we took our seats in the press row. On the way we passed a few familiar faces such as Gov. Gavin Newsom. The inauguration began with performances by gospel duo Mary Mary, singer Chloe Bailey, and poet Amanda Gorman. "The way forward is a road we make," Gorman said. "Here—a path we cast forth today. For where there's will, there's women. And where there's women there's forever a way."
Mayor Bass was then sworn in by Vice President Kamala Harris, and closed off the event by announcing that her first act as Mayor would be declaring a state of emergency. "My Emergency declaration will recognize the severity of our crisis and break new ground to maximize our ability to urgently move people inside, and to do so for good". These powerful words ended the historic event, and assured us that our city would be in excellent hands for the next four years.