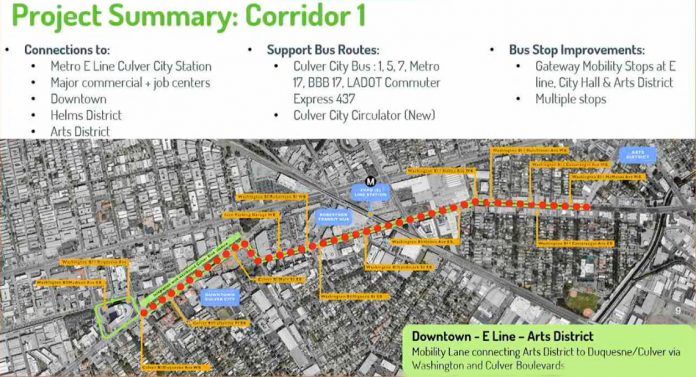 Culver City's transportation department will begin the implementation of a bike and bus mobility lane project that will connect the Culver City metro station and Arts District to Downtown Culver City. The plan comes in response to a call from council in May to develop a "bold plan to implement bus and bike mobility lanes now," and was formulated with support from urban planning firms Sam Schwartz and StreetPlans alongside significant input from community members.
The decision was made following an hour long presentation on the project at the Feb. 1 Culver City council meeting,.
This undertaking will only affect the structure of the streets, and will have no effect on the sidewalks. The space on streets will be redistributed to accommodate for a bus lane and a separate bike lane to encourage mobility in the city while attempting to alleviate traffic congestion.
This project required a great deal of input from the community, so outreach was done in several stages. Following the launching of their website landing page — moveculvercity.com — on Oct. 22, the project was discussed at meetings of three different commissions before the full website was launched on Oct 30.
Additionally, the Community Project Advisory Committee (CPAC) was created to further solicit input from various public bodies. The CPAC includes Special Interest Groups, City Committees, Business Associations, and Neighborhood Associations, organized by city manager Shelly Wolfsburg.
Since its inception, the committee has had six meetings on this project, with a seventh happening today. Meetings on the project were also held in the Mobility Subcommittee and the Business Roundtable, and several Community Workshops have also been held.
The city used both digital and traditional advertising, documenting over 40,000 hits from Nov. to Jan. Almost 25,000 of those views came from social media, including 11,805 from Facebook and 10,837 from Twitter.
The project has been through four different designs, and 11 project guidelines were created with community input and adhered to throughout the process. These guidelines were presented to council at the Feb.1 meeting, and are the following:
Downtown to E Line project boundary
Utilize quick-build approach
Stay within physical boundaries of the Right-of-Way
Maintain existing auto access and one general purpose lane
Stick to particular Design Typologies
Bus Stop improvements
Utilize Tactical Materials
Implement Public Art components
Continuity of Bus Lanes in the Corridor
Continuity of Bike Facilities
Implement new circular bus service
While many of these principles are self-explanatory, several of them did require additional explanation from project manager Diana Chen. First, the idea of a quick build approach and use of 'tactical materials' are very similar, each pointing to the use of effective short term, low cost material to implement these changes.
This includes the use of painted lanes, temporary signs, planters, curb stops, traffic tape, and other materials that are temporary and easy to implement, yet clear and effective. For guideline eight, paint will be a main feature in the public art components for this project.
While the ideal structure for the system includes mobility lanes that serve both buses and bikes, there will be areas in the city where implementing such a lane wouldn't be possible within the rest of the guidelines
To prevent any confusion, guideline five will keep the streets consistent by sticking to two particular design types: an enhanced type that includes the full mobility lane with a separated bike lane, and a minimized type which includes a shared bike/bus lane.
The presentation at the council meeting highlighted two particular improvements to bus stops: fast tracking the Bus Stop Improvement Project for all stops in the project corridor and establishing Gateway Mobility Stops at the ends of the corridor at City Hall and the Arts District, as well as the E-Line station. 
These mobility stops will be built with signage and furniture, as well as artistic sidewalk treatments. It will also include 'micro mobility drop zones' for scooter share and bike share riders to drop their vehicles off without impeding pedestrian traffic.
For the circular bus service component, several "circulator" stops are planned to be added to establish a route within the corridor. 
With such a radical change to the city structure, however temporary it may look, concerns regarding the project inevitably rose. The Arts District had worries over losing parking, Culver Studios wanted to maintain the left hand turn lane it has to enter its property at Washington and Ince, Culver Hotel wanted to make sure its valet service was still accommodate for, and Culver City Toyota and Honda had concerns regarding space for on street service queuing, among others.
The presentation then went into specific areas that would need special attention to solicit advice from the council on the project's recommendations.
This includes guidelines on the use of green and red paint to delineate the bus and bike lanes, high bus volume in certain segments of the project, left turn bays at various intersections, mixing zones and lanes in right hand turn situations, loading zone space in Downtown, potential need for bus and bike lane weaving in certain areas, as well as the previously mentioned concerns from local businesses.
Following the project's approval, RFP's, bidding, and planning of the logistics of the project specifics will be organized over the next couple of months.
Mobility lane implementation, community art installation, signal adjustments, and bus stop improvements will begin in May, with the project expected to go live fully in June.
Over the following six months, the results of the project's implementation will be evaluated for a first review in Fall of 2021, and a final review and recommendation for potential permanent solutions in 2022.
For more information, visit moveculvercity.com.