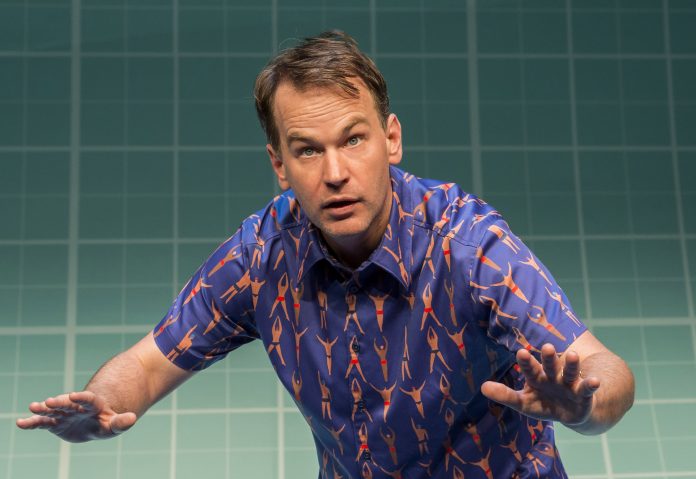 Mike Birbiglia is a comedian, storyteller, director and actor who has performed in front of audiences worldwide, from the Sydney Opera House to Carnegie Hall. On the heels of his award-winning Broadway show "The New One" about the arrival of his daughter and its effect on his life, which made its West Coast premiere at the Ahmanson Theatre, the popular comedian and storyteller has returned to Center Theatre Group with the world premiere of Mike Birbiglia: The Old Man and the Pool. It's a tale of life, death and a highly chlorinated YMCA pool, this time at the more intimate Mark Taper Forum. With his unique form of comedic storytelling, Birbiglia chronicles his coming-of-middle-age story that asks the big questions: Why are we here? What's next? And what happens when the items at the doctor's office that you thought were decorative become quite useful diagnostic tools?
This hysterically funny one-man show is written and performed by Mike Birbiglia and directed by Seth Barrish, co-artistic director of The Barrow Group. In it, Birbiglia shares that at age 44, he is now dealing with the effects of his family's medical history on his own. His stream of consciousness comedy begins with the notion of how he was told by his cardiologist that a regular, strenuous exercise program, meaning 5 days a week of cardio, was now necessary to combat the co-morbidity of cancer, diabetes and heart disease passed down from his grandfather to his father to himself.
Dedicated to improving his chances of living a healthier and longer life, especially for his young daughter, Birbiglia keeps the audience laughing about his journey to work past his belief that "healthy food goes to bed early, but pizza stays up all night to party with me," to turning his lifestyle around 180 degrees from his belief that "no one does cardio 5 days a week" to him now swimming at his local YMCA pool that often. And it was an encounter with an old man in the locker room, sitting naked on a bench while powdering his privates with great joy and dedication, that inspired the creation of his new play, getting us all to look at how living your life to the fullest at all stages is really the best medicine of all.
Dealing with subjects familiar to his legion of fans, Birbiglia speaks about his non-athletic early life, deep love of his wife and daughter, his bouts of sleepwalking, episodes of shortness of breath, and humorous descriptions of medical office visits where unknown instruments on display suddenly became useful diagnostic tools. And I guarantee you will be laughing from start to finish at his witty humor and biting commentary on accepting the universal truth of getting older and the effects on our bodies. Not to mention a few unsettling facts about public pool conditions!
Mike Birbiglia: The Old Man and the Pool continues through Aug. 28, 2022 at Center Theatre Group's Mark Taper Forum on Tuesday through Friday at 8 p.m., Saturday at 2:30 p.m. and 8 p.m., and Sunday at 1 p.m. and 6:30 p.m. Tickets start at $30, available through CenterTheatreGroup.org, Audience Services at (213) 628-2772 or in person at the Center Theatre Group Box Offices (at the Ahmanson Theatre) at The Music Center, 135 N. Grand Ave. in Downtown L.A. 90012, which is also the location of the Mark Taper Forum. The wearing of masks is required inside the Mark Taper Forum, while full vaccination and booster shots are recommended but no longer required
Ready for some family fun? Torrance Theatre Company is presenting The Addams Family: A New Musical Comedy with book by Marshall Brickman and Rick Elice, music and lyrics by Andrew Lippa, based upon the characters created by Charles Addams. This comical feast that embraces the wackiness in every family, features an original story and it's every father's nightmare: Wednesday Addams, the ultimate princess of darkness, has grown up and fallen in love with a sweet, smart young man from a respectable family– a man her parents have never met. And if that wasn't upsetting enough, Wednesday confides in her father and begs him not to tell her mother the two are planning to marry. Now, Gomez Addams must do something he's never done before– keep a secret from his beloved wife, Morticia.
Everything changes for both families on the fateful night the Addams host a dinner for Wednesday's "normal" boyfriend and his parents from Ohio. And trust me – even if you think your family is weird, imagine sitting down to dinner with these two totally-opposite-in-every-way families! Laughter abounds thanks to all the fabulously well-played characters including the incredible triple-threat entertainer Christopher Tiernan (Gomez), Presley Roy (Morticia), Lily Targett (Wednesday), comedian extraordinaire John "Spike" Fugatt (Fester), Amelia Fischer (Pugsley, sharing the role with Leah Mei Gold), Elizabeth Bouton Summerer (Grandma), Aiden Ludka (Lurch), Lukas Marvin (Lucas), Whitney Vigil (Alice), Garrett Engle (Mal), and the energetic ensemble of Addams ancestors, each with their own generational identity thanks to costume designer Bradley Allen Lock, creatively choreographed during every ensemble number by the extraordinarily talented Niko Montelibano.
The Torrance Theatre Company production includes 31 actors from all over Southern California, brilliantly directed by Cary Jordahl, who also designed the moody sets for the production, lit to perfection by Steve Giltner and Sofia De-Kaup of Streetlite, LLC. The creative team includes Stephen Amundson as vocal director and Bradley Hampton as music director and orchestra conductor at performances, with the entire production coordinated by Producing Artistic Director Gia Jordahl.
The Addams Family: A New Musical Comedy continues with performances this weekend on Thurs. 8/11 at 7pm, Fri. 8/12 at 8pm, and Sat. 8/13 at 2 p.m. and 8 p.m. at the James Armstrong Theatre in Torrance. Reserved seating includes Premium section for $45, General section for $35-$25, and Family Four Packs for $100. Tickets are available by phone at (310) 781-7171 or online at torrancetheatrecompany.com I guarantee your entire family will enjoy this wonderfully entertaining production. Vaccination not required with masks recommended but optional indoors.