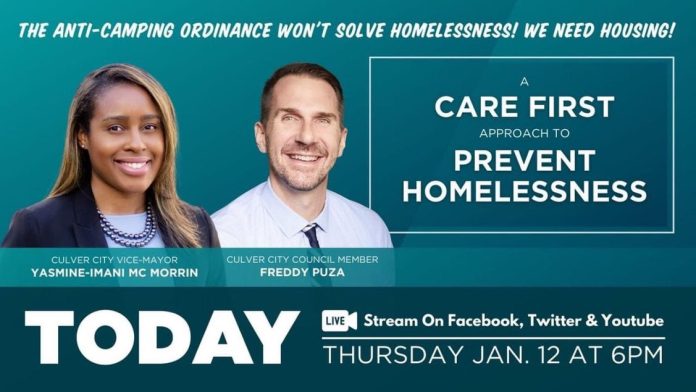 On the evening of Thursday, Jan. 12, Vice Mayor Yasmine-Imani McMorrin and Council Member Freddy Puza took part in a streamed press conference, hosted by Bubba Fish, to outline their care-first approach to solving the homelessness crisis, following the anti-camping ordinances approved by the new majority in the City Council.
"We advocate for a care-first response that focuses on providing services and housing through a housing-first lens, a research-based solution that prioritizes providing permanent housing and allows an unhoused person the flexibility, autonomy, and tools they need to remain housed," said McMorrin, in a statement. "It also focuses on prevention, rehabilitation, and diversion from our criminal justice system. It aims to end inequalities by prioritizing care rather than punishment and incarceration."
The priorities listed for Culver City are as follows:
"Housing first: Our 73 bed Project Homekey (originally scheduled to come online in November 2022, now March 2023) should be prioritized; Safe camping and parking sites should be rolled out expeditiously; Funding should be allocated for additional staff with Key Performance Indicators and specificity in job descriptions tailored to support for unhoused individuals; Mobile Crisis Intervention Unit hiring should be expedited. The Mobile Crisis Intervention Unit Pilot has been in planning processes since 2020; Currently unhoused folks need to be involved in policy making to ensure that the efforts are informed by lived experience and will have their intended impact."
At the press conference, McMorrin pointed out that we got here through the recent elections and a shift in power. She encouraged online attendees to vote in local elections, because there are real consequences. McMorrin also pointed to a fact that emerged at the last City Council meeting – that the belongings of people experiencing homelessness are stored in trash cans while waiting to be collected. The fact that they're "clean" trash cans is irrelevant, as the process is dehumanizing.
"We voted no on the Culver City State of Emergency at the Council meeting on January 9, 2023, due to the lack of available housing, the vagueness of the ordinance, lack of additional financial resources allocated, the anti-camping component, and significant concerns about enforcement that will harm our unhoused residents," said Council Member Puza in a statement.
At the press conference, Puza said that they understand that there is an emergency they lock arms with Los Angeles Mayor Karen Bass, but they want solutions that are humane.
"Systems of punishment hold people back," Puza said. "We advocate for systems of care. I didn't vote for these items because I couldn't see the pathway… We can't tell people where they can't go when we don't know where they can go."
According to the press release, "Vice Mayor McMorrin and Council Member Puza intend to build on the work of prior progressive majority councils who implemented rent control, established tenant protections, created infill zoning modifications, secured funding for an internal motel voucher program for temporary housing, submitted a compliant housing element, and voted to invest in the Homekey Project (a 3-2 vote) and the Mobile Crisis Intervention Unit."