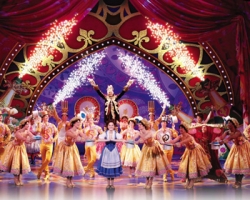 There comes a time in a young child's life when that child will inevitably be exposed to the timeless fairy tale, Beauty and the Beast. The story is based on an 18th Century French tale called La Belle et la Béte, which centers on a prince who is transformed into a beast, and a young woman whom he imprisons in his castle.
The Walt Disney company released an animated film version in 1991, with music and lyrics by Alan Menken and Howard Ashman, both of whom had written songs for the animated film, The Little Mermaid. When it came time to adapt the musical to the stage, lyricist Tim Rice was brought in (following Ashman's untimely death in 1991) and seven new songs were written, and a book penned by Linda Woolverton. Beautifully orchestrated music is ever-present in the stage show and film by Menken, an eight-time Academy Award winner – four for best original song and four for best original score.
Beginning in 1994, the stage version of Beauty and the Beast ran on Broadway for more than 5,000 performances, becoming the Great White Way's eighth-longest running production in history. And now, Angelenos will be able to experience one of Broadway's longest running blockbusters when it makes its way back to Los Angeles for the first time in 15 years. The Disney-licensed production will run for a limited, three-week engagement at the Pantages Theater in Hollywood through March 26. For more information, go to broadwayla.org/.
More sophisticated writing talent will be on display this week at Typhoon restaurant at the Santa Monica Airport, when the Lenny Stack Big Band takes the stage Monday night. You might think you've heard just about every version of the standard, How High The Moon – not so with Stack's unique arrangement, as you'll hear if you go down and experience his big band perform.
The art of big band arranging is certainly not dead, not when you have the high level of skill and artistry it takes to write for more than 15 different parts and make it sound melodic and fresh. Stack, a Los Angeles native, has written arrangements for the Tonight Show Band with Doc Severinsen, as well as charts for Buddy Rich and Louis Bellson. He is a USC alumnus and has worked as a musical director and composer/arranger for a variety of TV shows. There is no cover and no minimum, with two shows: 8 p.m. and 9:30 p.m.
On Tuesday night, five members of a funk-jazz group called Wonk get together at Typhoon and share their love for 70s' TV themes and old school soundtrack flavor – a mix best described as "Herbie Hancock and Jeff Beck meet the Rockford Files and Sanford and Son."
On Wednesday, students from the Westside-based Windward School Jazz Band will show that young folks can swing too, when they drop the downbeat at 7 p.m. More information can be found at typhoon.biz.
Jazz at the Skirball returns on March 25, with the Tord Gustavsen Ensemble. A major figure on the European jazz scene, Gustavsen has entertained audiences with his sophisticated melodies and a delicately crafted blend of Scandinavian folk, world rhythms and cool jazz. He has recorded for the prestigious jazz label ECM, which released four of his albums between 2003 and 2010. More information on tickets can be found at skirball.org/.
If you and your kids want to have a musical weekend, the always-entertaining and thought-provoking music of Dan Zanes and Friends will perform two shows at UCLA's Royce Hall on March 19.  Zanes is the former lead singer and songwriter from the popular 1980s' roots rock band, The Del Fuegos. The New Hampshire native won a Grammy Award for Best Musical Album for Children in 2007, and plays music that both parents and kids will have no trouble embracing. Shows are at 11 a.m. and 2 p.m. For more information, go to  uclalive.org/calendar/.
Jonathan Weiss is a Los Angeles-based music supervisor for film, TV and advertising. Email him at jonjaz@aol.com.