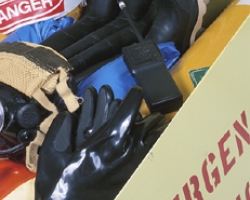 The devastating earthquakes that recently hit Japan ought to serve as a clear reminder to Southern Californians that such events could happen here too, according to a Culver City Fire Department spokesperson.
Christine Parra, the department's emergency preparedness coordinator, advised taking time to review or create a disaster plan. She offered the following advice:
Make sure that your plan addresses what do in the event a disaster strikes while you are at home, school and work. 
For those of you with school-aged children, speak to your schools and find out what their plan is. Talk to your employers; find out if they have a plan.
Check, or assemble, your disaster supplies.
Think about having a kit in your car, at work and school. 
Make sure that the phone numbers you have for your out-of-state contacts are still valid. 
If you have elderly parents, aunts, uncles, neighbors, make sure your plan addresses their needs or, work with them to create their plans.
For those who have animals, make sure you have a plan and extra food and medications for them too. 
"As daunting as this task may seem, it could save your life and the life of your loved ones," said Parra.
For more information and disaster-planning checklists (including checklists for businesses), go to culvercity.org and find the link entitled "Emergency Preparedness."