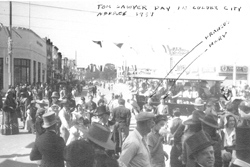 As locals are celebrating Culver City's first hundred years, it has naturally rekindled interest in our past and sense of community. A Main Street generally captures a picture of local history in any given year. Culver City's Main Street was filed with the LA County Recorder in 1913, the same year Harry H. Culver announced his plans for Culver City. It was developed at that time with great potential for growth. When this photo was taken in 1937, Culver City was an incorporated city, with its own city government, police and fire departments, schools, houses of worship and well-planned economic base. It might be characterized as family-oriented, with many support organizations, like the Women's Club, and Lions Club, Chamber of Commerce and many more.
In this photo, saved by Cheri Hadley's family, you can see that Main Street was the center of an event, "Tom Sawyer Days!" The movie, Tom Sawyer, was made locally on the property known as The Culver Studios today. The landmark remains as an operating studio, still operating at the foot of Main Street. The young actor who played the lead was Tom Kelly. Just to add to the story, Tom Kelly became a teacher at Culver Junior High School. If you know someone who is about 70 and graduated from our junior high, chances are there will be a memory to share.
This family photo looks north to Venice Boulevard, from the "Culver –Washington "X," near the Culver Hotel. On the left, at the foot of Main Street one can identify the Bank of America. The developer who headed the Washington Improvement Company, which filed Tract 1775 in the downtown area, was Camilo Cereghino. Cereghino was a business acquaintance of the owner of the Bank of America, A.P. Giannini. Look further north to see the Stellar and Skoog Hardware sign, shaped like a "saw." Clarke's Bootery is on the right side, with plumber J. H Donough Plumbing visible up the street.
Main Streets remain a place to congregate and celebrate!