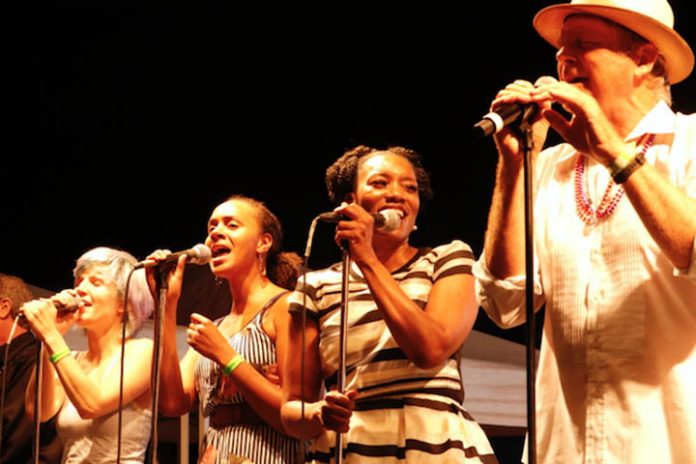 By Kimberly Knaub
Culver City's Fiesta La Ballona presents three days of free live music and dancing as part of the City's annual end of summer spectacular Aug. 24-26 at Veterans Park, 4117 Overland Ave. The Fiesta is produced by the City of Culver City, the Fiesta La Ballona Committee, local sponsors, and scores of volunteers.
Fiesta hours are 4:30 to 10 p.m. on Friday, Aug. 24; from 11 a.m. to 10 p.m. on Saturday, Aug. 25; and 11 a.m. to 9 p.m. on Sunday, Aug. 26.
Fiesta will open at 4:30 p.m. on Friday, with a festive Happy Hour. The Entertainment Tent will feature the Tom Nolan Band, an electrifying 10-piece rock 'n soul dance band.
The Exchange Club's Beer and Wine Garden, Food Trucks and the Food Court will all open at that time as well. Opening Ceremonies will commence at 6 p.m., in the Entertainment Tent, with members of the Culver City City Council, Parks, Recreation and Community Services Commission, the Fiesta La Ballona Committee, and special guest performers.
Fiesta-Palooza will start at 6:30 pm and will showcase local teen bands Late Ship, Vision, Point Antagonist, Mediocre, and Leaving London.
The Entertainment Tent's main stage performances on Saturday, Aug. 25 beginning at noon with a new Family Fun Time event featuring New Orleans jazz from Jazzy Ash & the Leaping Lizards.
Next, Ramblin Man will pay tribute to the best of the Allman Brothers at 1:45 p.m. and Gregg Young and the 2nd Street Band will play the '70s and '80s dance music at 3:30 p.m. At 5:15 pm, Allensworth will perform soul, blues, and rock. Starting at 7 p.m., Fiesta La Ballona will present Crimes of Passion/ Heart to Heart in a two-hour dance party paying tribute to Pat Benatar and Heart.
Rhythm Child will open the main stage program on Sunday, Aug, 26, at 11:45 a.m. with a Family Fun Time event featuring music and drumming. Conjunto Jardin will perform Son Jarocho of Veracruz, Mexico at 1:30 p.m. This performance is sponsored by Los Angeles County Supervisor Mark Ridley-Thomas. Irie follows, performing Reggae music at 3:15 p.m. Louis Cruz Beltran closes the entertainment program on Sunday with an hour-long set of Afro-Cuban music and Latin Jazz at 5 p.m.
Stilt walkers, provided by Red Swan Entertainment, will intermittently rove the park both Saturday and Sunday. The Entertainment Tent will also feature performances from many heritage dance companies. Saturday's schedule includes performances from the Los Angeles Swing Dance Posse, Grupo Folklorico La Rosa, Ho'Aloha Polynesian Dancers, and Ballet Folklorico Flor de Mayo. Sunday's schedule includes performances from the Culver City Senior Center ukulele group Cali Rose and the CC Strummers, Shingari School of Rhythm, Grupo Folklorico Macias, and Xoro Troptzi.
Fiesta La Ballona would not be possible without the support and generosity of all of its sponsors. This year's sponsors include: Gold Sponsors – Co+Opportunity Market & Deli, Caulipower, Chevrolet, and Sony Pictures Entertainment; Silver Sponsors – Tito's Tacos, Kane, Balmer & Berkman, Cedars-Sinai, T-Mobile and LA County Arts Commission; Bronze Sponsors – HeArt Realtors, The Vivian Lesny Group, SoCal Gas Company, HaltonPardee Partners, Echo Horizon School, Culver City Rotary Club, Golden State Water, and West Basin Municipal Water District; Friends of Fiesta – Backstage Bar & Grill, Cavanaugh Realtors, The Conservatory for Coffee, Tea & Cocoa, Steeldeck, ZogSports, Honeybee Health, KIND Snacks, and Mayme A. Clayton Library & Museum; Activity Partners – LA Galaxy Star Squad (appearance August 26 12:00pm-4pm), LA Kings Ice Crew (appearance August 26 4:15pm-8:00pm), Angel City Derby Girls (Bike Valet); Media Partners – KCET (appearance August 25 11:00am-6:00pm), KXOS (appearance August 25 11:00am-3:00pm), and KLOS (appearance August 25 4:00pm-8:00pm); and Zero Waste Partner – Commercial Cleaning Systems.
To learn more about Fiesta La Ballona or to sign up to be a volunteer, call (310) 253-6650, visit the website at www.fiestalaballona.org, and find out more by liking the event on Facebook (@ CulverCityFLB), following it on Twitter (@FiestaLaBallona), or viewing it on Instagram (#FLB2018).
Visit the Culver CityBus webpage at https://www.culvercity.org/how-do-i/find/culver-city-bus/maps-bus-stops-schedules for information about traveling to the event by bus.