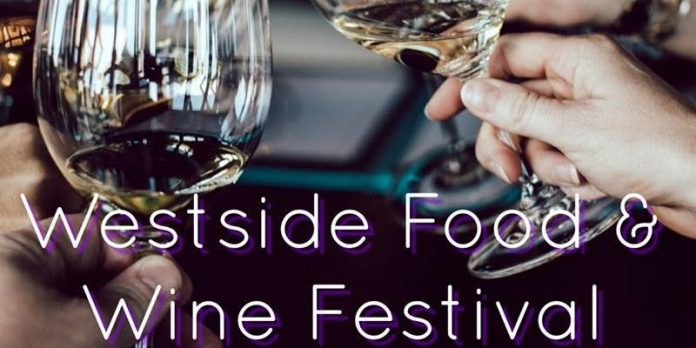 By Christian May-Suzuki
The Los Angeles Westside Food and Wine Festival will be bringing delicious food and fun back to Culver City on Sunday, July 21 from 3 p.m. to 7 p.m. The event will be held at the Courtyard by Marriott LA Westside at 6333 Bristol Pkwy., Culver City, just as it has been for its three previous iterations.
A portion of the proceeds from the event will be donated to the Westside Food Bank, an organization that helps provide meals for the homeless and those at risk in the Westside.
The organizer of the Westside Food and Wine Festival — Todd Elliot — has been helping out with the Food Bank for several years now, with each of his Westside Food and Wine Festival's donating its proceeds to help their cause.
Elliott says that he expects a record number of vendors as the Festival continues to gain momentum and popularity over each iteration. Currently, he expects to approach about 60 vendors for the festival, including Fifty One Chinese Kitchen, LaRocco's Pizzeria located in Downtown Culver City, as well as other restaurants and vendors around the Westside, including STK Steakhouse, Le Pain Quotidien, All American Gumbo, chocoMe original Artisan Chocolate, and more.
You can't have a Food and Wine festival without good wine, and this event won't have a shortage of that. Among those serving drinks are Culver City-based Harajuku Taproom, blossoming westside startup Calidad Beer, Wilson Creek Winery & Vineyard.
But it won't just be alcoholic beverages served at the event. Eventgoers will have a chance to abstain from alcohol and partake in other kinds of beverages, like kombucha from Boochcraft Kombucha, coconut water from Vita Coco Coconut Water, among other options.
Live music will be present at the event in the form of a DJ and a Jazz group playing live, as well as an "interactive music virtual reality world."
If that wasn't enough, there will be all sorts of other entertaining activities and things to partake in. At the headline of these is a Blackjack tournament with a $10 buy-in, and a chance to win tickets to the LA Westside Food and Wine Festival on the line.
There will also be two other performers: a magician and a psychic. Psychic services at the event will be provided by Tiffani Rose with a small variable fee.
Tickets for the event are on sale at eventbrite.com, starting at $50 for GA, and jumping up to $75 for a VIP ticket. Prices increase even further if buying tickets on the day of the event. Contact Elliot@swingentertainment.com for more information.