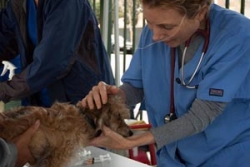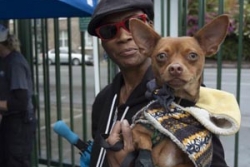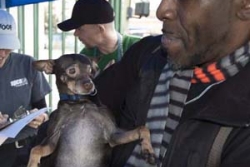 Society for the Prevention of Cruelty to Animals Los Ange-les (spcaLA) and Los Angeles County Department of Public Health set up a free, temporary vaccine clinic for pets of the homeless and others in need in Downtown Los Angeles' Skid Row yesterday in an effort to to improve the health and safety of pets in the area.
Despite the rain, pet com-panions lined-up for free vac-cines, deworming, and flea treatment administered by spcaLA and LA County Public Health veterinarians. spcaLA staff and volunteers gave par-ticipants free pet food, dog toys, leads and collars.
Plans are underway for another free downtown vaccine clinic sometime early next year. For more persons interested can contact Ana Bustilloz at (323) 730-5300 x252, by email at abustilloz@spcaLA.com. spcaLA is an independent, nonprofit animal welfare organization serving Southern California since 1877.
There is no national SPCA, parent organization, or umbrella group that provides financial support to spcaLA. Donations run programs and services including Cruelty Investigation, Disaster Animal Response Team, Humane Education, and a variety of shelter services.