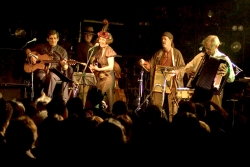 Janet Klein with her band the Parlor Boys perform forgotten gems and naughty ditties from the 1910s, '20s and '30s with flair, style and a generous amount of fun. Her Parlor Boys are a group made up of time-warped musicians.
She has been performing early music since 1996 and released her first CD in 1998 – "Come Into My Parlor." Klein and the band currently live and perform around Los Angeles and have played in many old music halls and theatres in the U.S. and around the world.
They will perform Saturday from 8 to 10 p.m. at Boulevard Music at 4316 Sepulveda Blvd, Culver City. Tickets are $17.50.
The NEWS caught up with Klein and she was gracious enough to give readers a taste of what's to come March 3.
1) When did you start playing and writing music, and when did you start taking it seriously (playing live, recording, etc)?
I have been a treasure hunter, a waif of time travel and person who sings to themselves for as long as I can remember. Meaning, that I don't write music, I have my settings aimed to dig up and polish off beautiful forgotten gems from the past, research and interpret them and keep those old tunes reverberating in the here and now.
In about 1998 I found a small group of like-minded musicians and started to play early jazz/ Depression-era music in public and have recorded 8 CDs since then.
2) Who are your main influences?
Ruth Etting, Lee Morse, Adelaide Hall, Annette Henshaw, Fats Waller, Fannie Brice, Cab Calloway, Lil Armstrong, Eva Taylor..to name a few.
3) Describe your own style…
I aim to perform in the vein of entertainment that existed in the 1920s and 1930s…hard to describe, but you can catch glimpses of that certain something portrayed in scenes set in nightclubs from pre-code 1930s movies. British Pathe and Vitaphone film shorts, dance band plus personality artists at that time had a style that I hope to evoke.
4) Where are you based? What do you think of the local scene?
We are an LA-based band..Thank goodness for a variety of venues keeping us busy in town , and different factions of folks who are interested…swing dancers, jazz age dancers, old music and movie buffs, animators, romantics, art deco time warpers, antique auto enthusiasts, uke players, curiosity seekers.
5) Best gig to date? And worst?
All I can think of are the best gigs: We used to play at the Silent Movie Theater on Fairfax and share the bill with Buster Keaton and Harold Lloyd and the legendary Bob Mitchell on pipe organ, playing the Ahwahnee Hotel in Yosemite, the grand 1911 Palace Theater downtown, the wonderful Old Town Music Hall in El Segundo, playing in dreamy places in Japan..all the BEST!
6) Do you have any albums/singles available?
8 CDs: titled Come into My Parlor, Paradise Wobble, Living In Sin, Oh!, Ready for You, Put A Flavor To Love, Whoopee Hey Hey, & It's the Girl
7) Have you played Boulevard Music before? How did that connection happen? How did it go?
We've been playing at Boulevard Music for perhaps 10 years, at least once a year. I think that I was introduced to Kathy and Gary Mandell by musical entertainer, historian, composer, friend and band member; Ian Whitcomb. We have loved playing at Boulevard Music over the years..it's one of our Westside traditions..always a warm and inviting place!
8) What can we expect from the set?
Obscure, Naughty and Lovely tunes of the 1920s and 1930s
9) What do you have planned going forward, after this show, for 2018?
We continue to record and perform.. we've got irons in the fire for traveling up North and in the East Coast,  a side project in the works in Japan.. and we are on the lookout for a preferably historic LA venue to replace our 13 season home base theater.The Steve Allen Theater which closed at the end of last year.