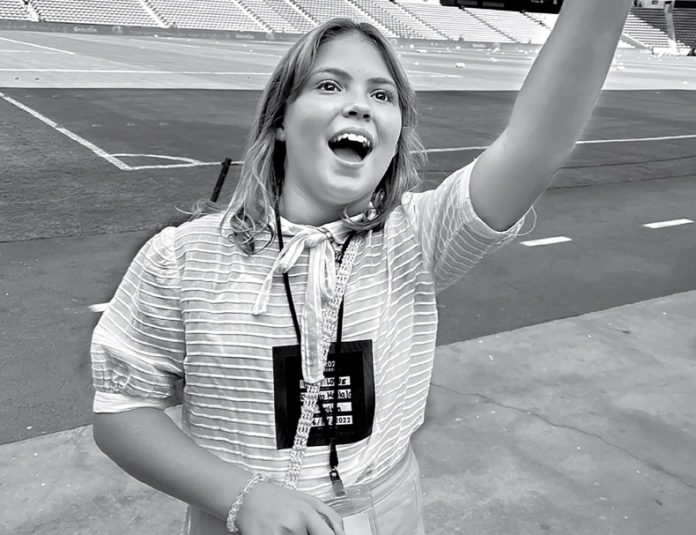 Chloe P. Lopez interviews top sports stars
By Chloe Paloma Lopez age 11, KidScoop Media Correspondent
On Aug. 14, 2022, Angel City (ACFC) played the Chicago Red Stars hoping to secure 3 points toward the playoffs. Angel City successfully defeated the Stars with the score of 1-0.
It was also ids Day at the Banc of California Stadium and Iwas there as a kid reporter on behalf of Kid Scoop Media! I got to sit in the press box and watch the game from high above the field. Approximately 17,000 people attended the game and their energy was electric.
Before the game I interviewed Olympic gymnast Jordan Chiles on the field. Which could be seen on the Jumbotron screen. She is a big ACFC fan. Jordan gave advice to all the kids in the stands. She said, the key to her success was dedication to her sport and having fun. She inspires all to continue facing challenges with courage and strength.
The Chicago Red Stars defense was awesome and held off Angel City until the second half when Claire Emslie passed to Savannah McCaskill, ACFC's midfielder, and bodied the ball into the goal. While the Red Stars had a strong offense in the 85th minute, An- gel City's Goalkeeper, Dijana Haracic, blocked a goal shot by number 15 Sarah Grifith.
There were 4 minutes added to the game in the end that weren't that eventful but still added some suspense.
After the game at the press conference ACFC Coach Freya Coombe and Savannah McCaskill were present to answer questions. They both gave very interesting and inspiring answers to reporters' questions. Savannah's advice to young players was, "You have to love every moment of the sport you play, good and bad."
I also had the opportunity to meet Megan Fish, ACFC's So- cial Media Director when she came to the press box. One of the really interesting ques- tions Fish had asked me was " What are you going to take back to your team after watch- ing these professional women "ball out "today''? I said "I think that ACFC's communication and teamwork is really inspir- ing" and I intend to do that and more to help my team succeed.
Overall the game was exciting and I can't wait to see Angel City in the playoffs. Thank you KidScoop Media for this incredible opportunity!