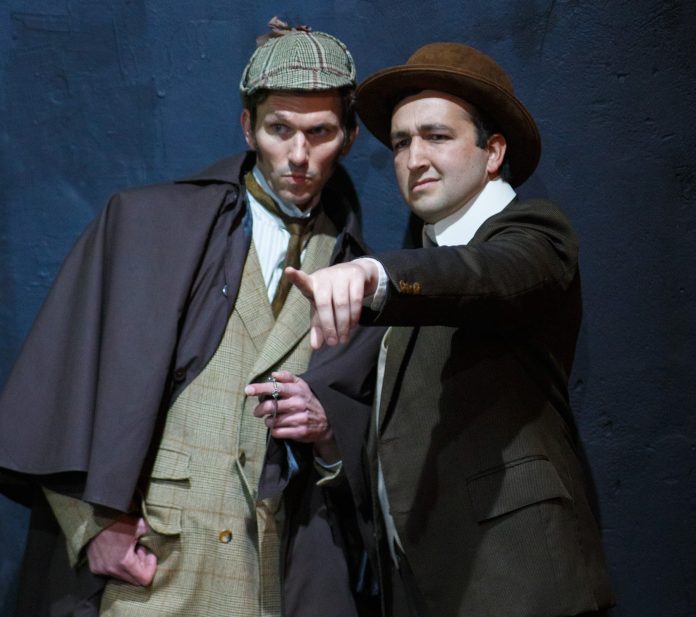 Kentwood Players opens Ken Ludwig's Baskerville: A Sherlock Holmes Mystery on Friday, March 17 through Saturday, April 8 on Fridays and Saturdays at 8 p.m., and Saturdays and Sundays at 2 p.m. at the Westchester Playhouse, 8301 Hindry Ave., Los Angeles 90045. The production is directed by Susan Stangl with assistant director Valerie Sullivan, produced by Myron Klafter, Howard Male, and Michele Selin for Kentwood Players with rights secured from Concord Theatricals. The cast features Aaron Frank as Sherlock Holmes, Zachary Macias as Doctor Watson, with Chris Morrison, John O'Brien, and Mikkel Simons each playing more than a dozen characters!
Get your deerstalker cap on – the play's afoot! Comedic genius Ken Ludwig transforms Arthur Conan Doyle's classic The Hound of the Baskervilles into a murderously funny adventure with Sherlock Holmes on the case. The male heirs of the Baskerville line are being dispatched one by one. To find their ingenious killer, Holmes and Watson must brace the desolate moors before a family curse dooms its newest heir. Watch as our intrepid investigators try to escape a dizzying web of clues, silly accents, disguises, and deceit as five actors deftly portray more than forty characters. Does a wild hellhound prowl the moors of Devonshire? Can our heroes discover the truth in time? Join the fun during this fast-paced comedy and see how far from elementary the truth can be!
There will be one pay-what-you-can performance on Saturday, March 18 at 2 p.m. with reservations recommended but not required. Reserved seat tickets for all other performances are on sale for $22 with a $2 discount for seniors and students, available online at www.kentwoodplayers.org, by emailing the box office at boxoffice@kentwoodplayers.org or calling (310) 645-5156. All emails and messages will be answered in the order received to confirm your ticket order. Please note: face masks must be worn while inside the building unless performing onstage.
Metro Train riders can take the new K Line to Kentwood, exiting at the Westchester/Veterans station at Florence and Hindry, just a short one block walk from the Westchester Playhouse. Riders who show their Metro TAP card when purchasing a full price ticket at the box office starting an hour prior to each performance will receive a $5 discount.
For drivers, there are two free parking lots available. The small lot next to the Westchester Playhouse is reserved for disabled patrons only. The Hensel Phelps parking lot at 8330 Hindry Avenue opens an hour prior to show time, is locked when a performance begins, and reopens at the end of the show. Look for our parking lot greeter to welcome you. Free street parking is available on 83rd Street and in the adjoining neighborhood. Please read all traffic and parking signs carefully.
Kentwood Players is actively seeking performers of all races, ethnicities, gender identities, body types and abilities for all roles in Jonathan Larson's award-winning rock musical Rent, directed and choreographed by Marcus S. Daniel, musically directed by Gabrielle Maldonado. Open auditions will be held at the Westchester Playhouse on Sunday, March 19 from 6pm to 9pm and Monday, March 20 from 7 p.m. to 10 p.m., with performances May 12 through June 17 (dark Memorial Day weekend). More information at www.kentwoodplayers.org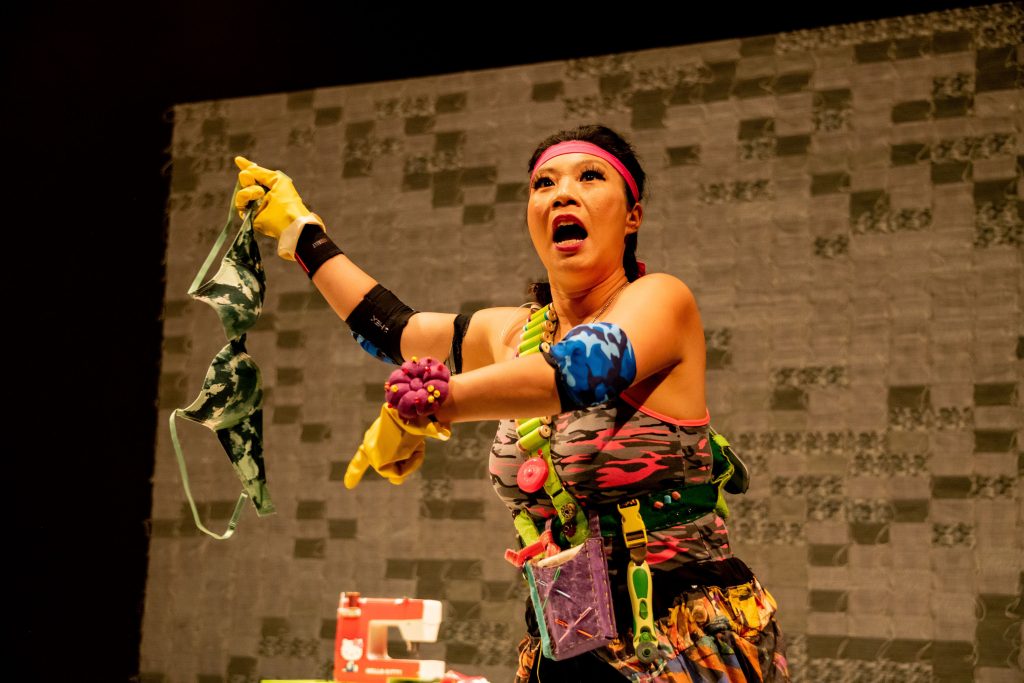 On day three of the COVID-19 pandemic, Kristina Wong began sewing masks out of old bed sheets and bra straps on her Hello Kitty sewing machine. Before long, she was leading the Auntie Sewing Squad, a work-from-home sweatshop of hundreds of volunteers – including children and her own mother – to fix the U.S. public health care system while in quarantine. It was a feminist utopia forming in the midst of a crisis. Or was it a mutual doomsday cult?
Now at the Kirk Douglas Theatre, Kristina Wong, Sweatshop Overlord written and performed by the award-winning, outspoken, and always socially-relevant Kristina Wong, offers audiences a hilarious and heartfelt inside look on how she worked building community in isolation, while reflecting on what we've been through and imagining what we want to become.
To celebrate the first show of 2023 at the Kirk Douglas Theatre in downtown Culver City, several events and collaborations are scheduled to bring together the Los Angeles community. In the true spirit of the show, which speaks about human connection and the desire to create community, Kristina Wong will be doing post-performance discussions featuring guest panelists, including members of the Auntie Sewing Squad, for various community groups on the following upcoming dates: Tuesday, February 28 at 8 p.m., Wednesday, March 8 at 8 p.m., and Saturday, March 11 at 2 p.m. Post-performance discussions offer an opportunity for the community to gather together after the performance and get to the heart of the experience they just shared. In addition to the post-performance discussions, audiences can attend an ACCESS Performance, American Express Card Member Performance, Student Matinees, and an L.A. Theatre Community night. More information at CenterTheatreGroup.org
Directed by Chay Yew as a co-production with East West Players with additional support from the Skirball Cultural Center, Kristina Wong, Sweatshop Overlord continues at the Kirk Douglas Theatre, 9820 Washington Blvd. in Culver City, through March 12 on Tuesday through Friday at 8 p.m., Saturday at 2 p.m. and 8p.m., Sunday at 1 p.m. and 6:30 p.m. No Monday performances. Tickets range from $30-$79, available online at CenterTheatreGroup.org, by calling Audience Services at (213) 628-2772 or in person at the Center Theatre Group Box Office (at the Ahmanson Theatre at The Music Center in Downtown Los Angeles).