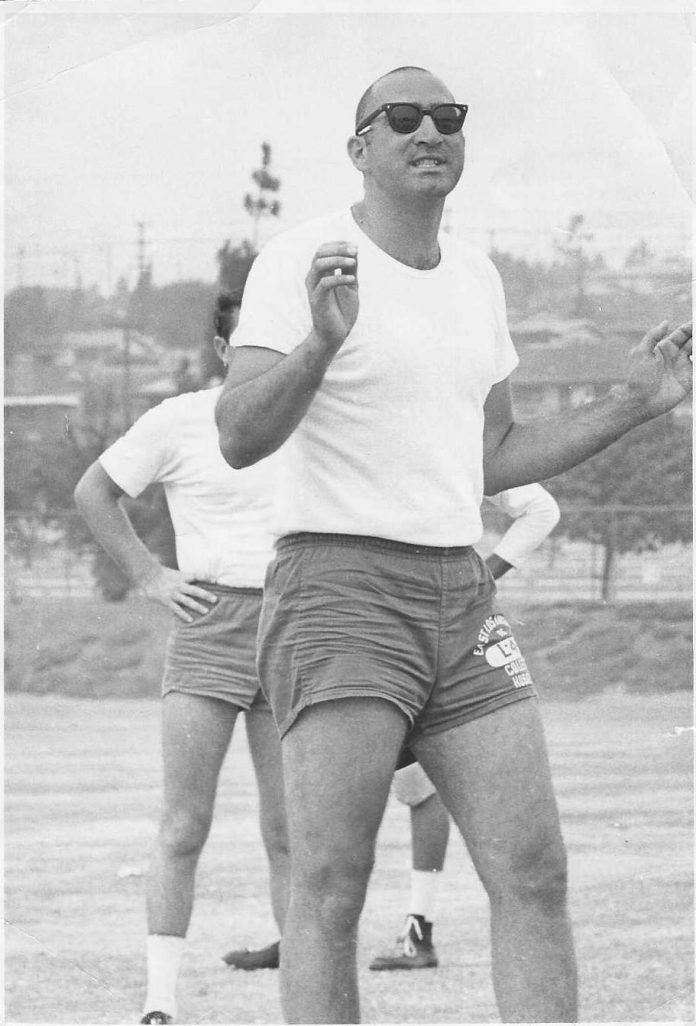 John Farhood, the head coach of the inaugural West LA College football team, who led a fledgling group of players to an improbable conference championship in the school's third year, died last month. He was 86.
"He was our beloved coach and friend," said Tom Mills, who played fullback the first two seasons. 
Farhood would later serve as the school's athletic director before progressing to dean at both West LA and Pierce College.
The Los Angeles High School alumnus played end on the 1954 UCLA football team coached by the legendary Red Sanders that won the Bruins' first and only national championship.
"He was the glue that held our hopes and dreams together during the first football season in 1970 with meager school facilities. John Farhood was the right person for the job. He was an authentic, no-nonsense, down-to-earth, fundamentals-oriented coach," said Mills.
Farhood's Oilers (now Wildcats) advanced to the Western States Conference title games in the 1970 and 1971 seasons and won the WSC crown in 1972. 
The first-year head coach convinced successful prep coaches, including Jack Mathieson from Canoga Park High, Chuck Holloway from Crenshaw High, Tom Paton from Blair High and Mario DiMuro from Loyola High School to help guide the embryonic football program.
Farhood and his new staff immediately raised eyebrows when the young Oilers upset Chaffey College, the oldest community college football program in Southern California, 34-0, in the opening game of the 1970 season.
"Coach was a strict disciplinarian, but he had a heart of gold and was creative and open to new ideas that would make the team improve," said Mills. 
After the Oilers' 30-22 defeat in the first conference game at Ventura College, Farhood decided to mix things up on offense by having fullback Mills, who typically blocked for the tailback in the I-formation, carry the ball against Glendale College.  Farhood's emphasis on fullback running plays such as traps and draws worked, and WLAC took a commanding three-touchdown lead into the final quarter and cruised to a first ever Western States Conference win, 34-26. 
"What a huge win that was for our new program," said Mills.
Farhood's infectious sense of humor helped assistant coaches and players cope with the ups and downs of an inaugural season.
"Coach Farhood seemed larger than life. Some coaches use anger and intimidation to inspire their players, but coach made a human connection with us. His sense of humor made practice fun. I still remember his sincere belly laugh that made us dig deeper," said former Canoga Park All-City offensive tackle Sam Wilbanks.
"He was approachable and cared about how your life was going," added Wilbanks.
In an era of the Watts riots' impact on civil rights, the newly formed WLAC football team embodied diversity. WLAC's players represented numerous ethnic backgrounds led by their respected Lebanese-American head coach.
"Race never crossed my mind during those two seasons. John brought us together as a team, and we just wanted to be champions," said Mills. 
Several of Farhood's players moved on to celebrated football careers. Charles DeJurnett played at San Jose State, the World Football League, and 10 years with the NFL's then-San Diego Chargers and then-St. Louis Rams, who both now reside in Los Angeles. 
At East LA College, Farhood coached future USC standout tailback Clarence Davis who went on to play for the Oakland Raiders. 
Farhood's winning legacy at WLAC later produced NFL Hall of Fame inductees Warren Moon and Isaac Bruce and a future one in Keyshawn Johnson.
According to All Sky League First Team offensive and defensive CCHS star Ken Gruendyke, "I attribute our success under Coach Farhood not only to his masterful game plans but also to our tremendous desire not to let him down. I will miss him greatly." 
"John was a mentor to me during my own time coaching football. My game philosophy was impacted by his preparation and attention to detail," said Gruendyke, who later coached Santa Ynez High School's football team to several league titles during a lengthy successful career.
Like anyone facing difficult odds, Farhood was somewhat nervous about the challenge that he, his new coaches and his young team faced before the 1970 season.  Mills recounted the time Farhood conducted an extensive interview that appeared on the front page of the LA Times Westside section announcing the new West LA College Football team.  
"Coach anxiously said, 'Mills, now we better be good,'" said Mills.
Farhood, who died April 30, is survived by his wife of 61 years, Ellen, and daughters Kristina and Victoria and four grandchildren. Before accepting the head coaching position at West LA College, he coached at Wilson and Verdugo Hills high schools, as well as at East LA College.