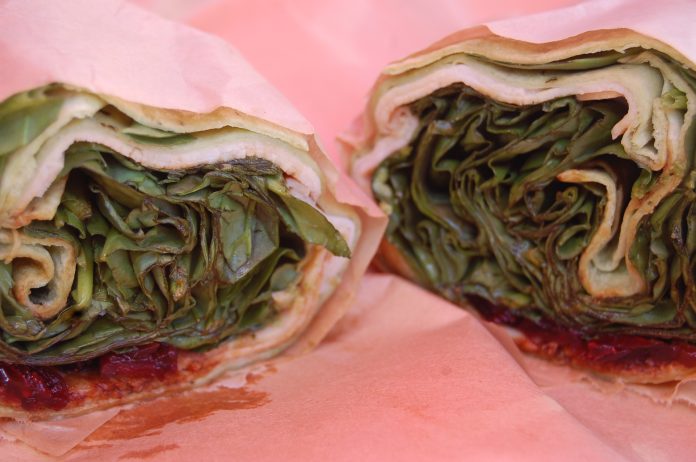 Before you even enter the Jackson Market and Deli, there are surprises to enjoy on the street that it sits on. Just a few doors down, on Jackson Avenue, there's a house where the owners have decorated its front lawn and the tree in front of it with masses of kids' toys. Stuffies hang from the tree like it's a weird version of Halloween – the whole thing made us pause in our tracks for a moment as we soaked the sights in.
Of course, that has nothing to do with the Jackson Market & Deli, but it does highlight the fact that this place isn't located on a regular high street – it's a glorious addition to a residential street that, if you're not in the know, you really have to seek out.
"Jackson Market is a neighborhood market and deli hidden on a residential street in downtown Culver City since 1925," they say in their online biography. "Famous for custom deli sandwiches, wraps, and salads, coffee, pastries and breakfast items made fresh daily. We also provide a wide variety of craft beers, wine, teas, juices, sodas, as well as ice cream, snacks, and convenient basic groceries. Enjoy your food on our beautiful outdoor dining patios, or order online for convenient fast pickup or get delivery through our online order app."
The "market" part of the store is a browser's paradise. Beautifully laid out, there are treats galore, both sweet and savory, to peruse and purchase. There really is much to love, but the "Deli" part of the name is Jackson's real gem.
With paninis, sandwiches, wraps and salads on the menu, there's no shortage of choices when stopping in for lunch. They also apparently serve a mean breakfast – perhaps another time.
We opted for the very fancily named Ponce de Leon wrap, presumably named after Juan Ponce de León who, according to legend, found Florida while seeking the Fountain of Youth (somewhat ironic, given the fact that people now tend to retire to that state).
The connection is unclear; the spinach wrap is stuffed with leafy baby spinach, oven-roasted turkey, dried cranberries, avocado and balsamic vinegar. It's healthy, as wraps go, so maybe the theme is that it prolongs youth much like the sought fountain?
What we know is that it's delicious. The crisp greens balance beautifully with the tangy balsamic and bitter-sweet cranberries. The avocado adds character, and the turkey brings it all together. It's a great wrap.
Whether it made us any younger remains to be seen.
Jackson Market and Deli is located at 4065 Jackson Ave., Culver City 90232. Call 310-425-8426 or visit jacksonmarketanddeli.com.