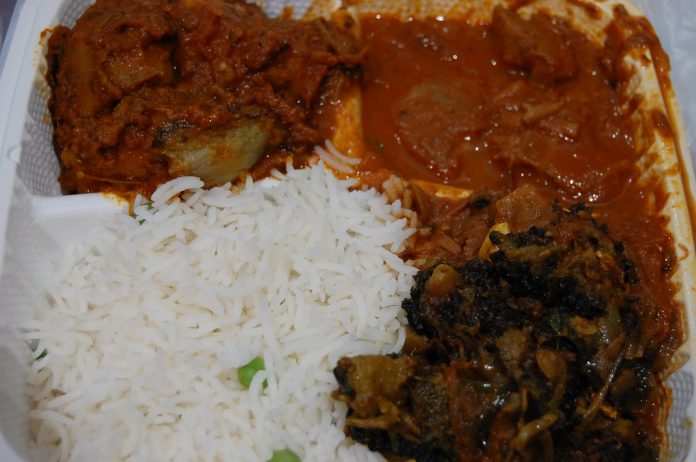 As a British-born US citizen, a trip to India Sweets & Spices around the holidays turned out to be a must. We'll get onto the hot food on offer soon enough, but one of the main attractions is the fact that it has a small but impressive grocery store attached, and that grocery store has a small but welcome British food section.
Some of these products might look alien to most Americans – they're not particularly fancy. But for an Englishman living in another country, they feel warm and reek of nostalgia. So if you're passing by and want to try something new just for the fun of it:
Branston pickle is a darkly-coloured sandwich/salad chopped pickle product that contains carrot, swede, onion and cauliflower.
It's both tart and sweet, and it's simply incredible with cheese.
Ribena is a blackcurrant syrup – you add a dash to water and it makes a delicious drink to enjoy hot or cold.
Hob-nobs are an oaty, sweet cookie (or biscuit to Brits) that come plain or with chocolate. They're great when dunked into tea or coffee.
We also picked up some Indian snacks for the season – bags of items that we always knew at Bombay Mix, though they're called things like Madras Mix here.
Crispy noodles, rice chips, chickpeas, lentils and peas, heavily spiced with curry flavoring. Delicious with an alcoholic beverage to ring in 2023.
As for the hot food on offer – the canteen-style might not be for everyone, especially if you don't know what you're looking at or for. But this is an opportunity to be adventurous and try something completely new.
We went with the three-dish option – white basmati and our choice from the many curries on display. We chose the eggplant and potato curry, the jackfruit curry, and the cabbage curry. All vegan, and all delicious.
The jackfruit curry was the most sauce-heavy, which made it a great pairing with the rice. The texture of the jackfruit is a great alternative to meat, without feeling like you're missing out.
Meanwhile, the potato and eggplant is heavier, but not less tasty. Neither is too hot, but flavor isn't sacrificed.
The cabbage curry that we selected was actually very heavy on the black lemon – an ingredient usually essential in Middle Eastern dishes. Slightly bitter but unusually tasty, the dish is a hit.
We likewise had some spinach pakora (or pakoda), which was fairly standard pakora. Fried, comforting, mildly spiced and yummy with the green and brown sauces it comes with.
So for all of the reasons mentioned above, a trip to India Sweets & Spices with an open mind is essential.India Sweets & Spices is located at 9409 Venice Blvd., Culver City 90232. Call 310-837-5286.