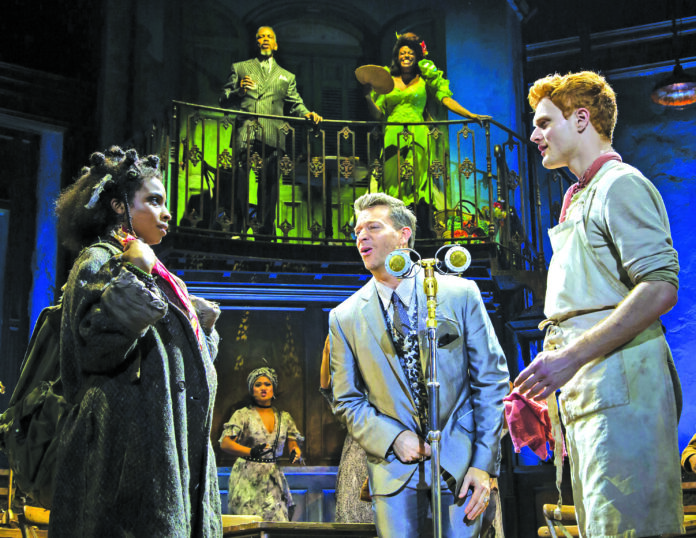 The Los Angeles engagement of HADESTOWN, the most honored show of the 2018-2019 Broadway season, has finally opened at Center Theatre Group's Ahmanson Theatre after being postponed from 2020. Born from the music of celebrated singer-songwriter and Tony Award® winner Anaïs Mitchell, and developed with innovative director and Tony Award winner Rachel Chavkin, it marks the first time in over a decade and the fourth time in Broadway history that a woman has been the sole author of a musical: writing the music, lyrics and book. With Chavkin, her artistic collaborator, their tale of love and loss has been transformed into a genre-defying new musical that blends modern American folk music with New Orleans-inspired jazz to reimagine a sweeping ancient tale.
This former Greek Mythology teacher knows the stories portrayed, but in case you don't here is a brief summary of the plot which follows two intertwining love stories – one of young dreamers Orpheus and Eurydice, and the other of King Hades and his wife Persephone. Both couples are involved in hell-raising journeys to the underworld and back, either by choice or fate. Mitchell's beguiling melodies and Chavkin's poetic imagination pit industry against nature, doubt against faith, and fear against love, performed by a vibrant ensemble of triple-threat actors, dancers and singers.
The North American touring production stars award-winning actors Nicholas Barasch as the redheaded and naïve Orpheus, Morgan Siobhan Green as the trapped Eurydice, Levi Kreis as Hermes who acts as the musical's flashy narrator, Kimberly Marable from the original Broadway cast whose triple-threat talent and mega-watt smile lift Persephone from victim to star, and Kevyn Morrow as the rich bass-voiced Hades. The Fates harmonizing trio (Belén Moyano, Bex Odorisio and Shea Renne) dazzle while doing Hades' bidding to stir up trouble. The Workers Chorus ensemble who are there to do whatever is requested of them features Lindsey Hailes, Chibueze Ihuoma, Will Mann, Sydney Parra and Jamari Johnson Williams.
Along with the outstanding cast, kudos must be given to the marvelously talented Tony Award winning creative team, who together make HADESTOWN a treat for all the senses: from the multi-level scenic design by Rachel Hauck which has Hades and Persephone seated on a New Orleans-style balcony overlooking the workers who toil below them, often on a rotating, circular platform center stage to enhance the believability of their journeys; Bradley King's mood-enhancing lighting design; Michael Krass' costume design which enhances the dullness of underworld with splashes of light and color from those who are able to journey above; Nevin Steinberg and Jessica Paz for their sound design, although it is sometimes difficult to understand the lyrics with the seven-piece orchestra seated onstage with the actors, conducted by Nathan Koci who plays a mean piano; and Chita Rivera Award® winner and three-time Bessie Award® winner David Neumann's viciously active choreography which utilizes every area of the stage to great effect. Do not miss your chance to be dazzled by this haunting and hopeful, totally artistic epic production playing through May 29 at the Ahmanson Theatre.
Tickets are currently on sale starting $35, available through Audience Services at (213) 972-4400, online at CenterTheatreGroup.org, or in person at the Center Theatre Group Box Office (at the Ahmanson Theatre at The Music Center, 135 N. Grand Avenue in Downtown L.A. 90012). Performances run Tuesday through Friday at 8 p.m., Saturday at 2:00 p.m. and 8 p.m., Sunday at 1 p.m. and 6:30 p.m. COVID-19 vaccinations or professionally administered recent negative tests are required along with the wearing of masks indoors.
Also dazzling audiences is Edward Albee's WHO'S AFRAID OF VIRIGINA WOOLF? at the Geffen Playhouse, celebrating the 60th anniversary of the play in which George and Martha, the American theater's most notoriously dysfunctional couple, have invited the young and naive Nick and Honey over for drinks after a college faculty gathering. What begins as harmless patter escalates to outright marital warfare, with the provincial newcomers caught in the crossfire. Brilliantly cast with Calista Flockhart as Martha, Zachary Quinto as George, Graham Phillips as Nick, and Aimee Carrero as Honey, each of whom has been directed to perfection by Gordon Greenberg, the production breathes life into each of these four despondent characters without making us totally hate or pity them.
I have seen this play many times but this is the first time I actually enjoyed watching the relationships develop and dissolve as too many drinks were consumed and too many words were said out of anger and self-loathing. Kudos to the four actors who work together and support each other so well, allowing each to shine without stealing the spotlight from each other. However, I am of the opinion that this play stands up well with just the first two acts, as requiring audience members to sit for almost 3 and a half hours in masks was a bit much for many who rushed out of the theater during the two 10-minute intermissions for a chance to breathe freely.
WHO'S AFRAID OF VIRGINIA WOOLF? runs through Sunday, May 22 on Tuesday–Friday 7:30 p.m.; Saturday 1:00 and 7:00 p.m.; Sunday 1:00 and 7:00 p.m. (dark Monday) in the Gil Cates Theater at Geffen Playhouse, 10886 Le Conte Avenue, Los Angeles, CA 90024. (Check for extensions!) All performances start promptly on time. Ticket prices begin at $30, by phone at 310.208.2028 or online at www.geffenplayhouse.org. This production contains adult subject matter, profanity, and the smoking of herbal cigarettes. It is not recommended for those under the age of 14, and children under 6 years of age will not be admitted. COVID-19 vaccinations and the wearing of masks indoors required.