Much like those Mongolian barbecue restaurants, Gyu-Kaku (for the unfamiliar) is a chain of Japanese eateries which offers the diner the experience of cooking your own food. So from the very beginning, how much you're going to enjoy eating here will almost entirely depend upon how much you want to be involved in the cooking process.
Cards on the table – we decided to try Gyu-Kaku at the urging of our son who is obviously on summer break and saw a video about the place featuring one of his favorite YouTubers (never believe that online marketing doesn't work). For younger people, the idea of an interactive dining experience might sound like a ton of fun. For this writer, I don't want to be worrying about how many minutes have passed before flipping the meat so that it doesn't burn – meat that I've paid for and me with zero culinary training. Please, chef, work your magic and serve me something great.
That said, there's no cause to be grouchy. Gyu-Kaku makes no secret of what it is. This is the deal and everyone going in knows it so complaining is redundant.
That said, how do you review a place where you're cooking the food yourself? Well, the aforementioned experience is kind of fun, especially if you are with a child who is buzzing about doing something, anything, that has a novelty factor about it.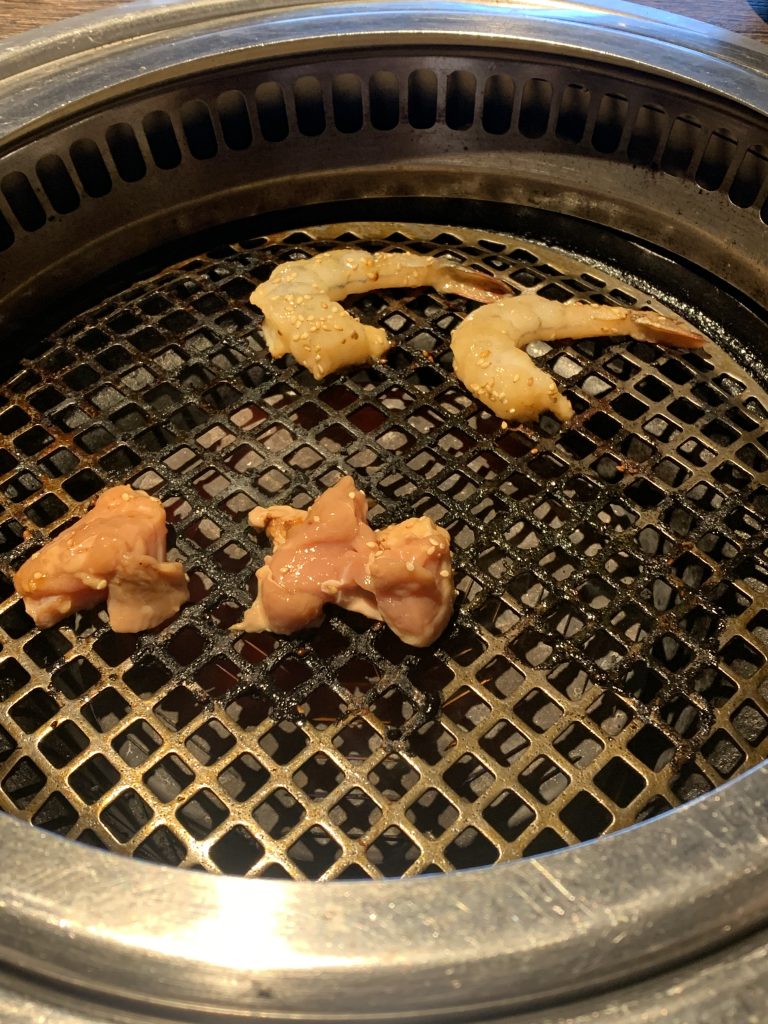 The firepit is in the center of the table and you're provided with tongs, so everyone is safe if you're watching carefully. There are instructions for cooking times for poultry, seafood, etc on the table so it's fairly straightforward.
We had a three item barbecue combo, and chose umakara pork, garlic shoyu chicken thigh, and garlic shrimp. All of the ingredients were fresh and perfectly seasoned – the umakara pork is mildly spicy with a smoky flavor.
That came with a house salad, steamed white rice and miso soup, and we added Gyu-sushi (slices of tender beef on rice) and some garlic Shio cabbage. Everything was beautifully prepared and presented, and the crispy flakes of garlic on the cabbage were particularly delicious.
The staff were extremely friendly and helpful, while the interior was immaculate, all of which added immensely to the overall vibe.
Ultimately, it's nice to do something different and Gyu-Kaku certainly offers that. Just know going in that you're going to be put to work and pay for the privilege.
Gyu-Kaku is located at 10925 W. Pico Blvd., Los Angeles 90064. Call 310-234-8641 or visit gyu-kaku.com.