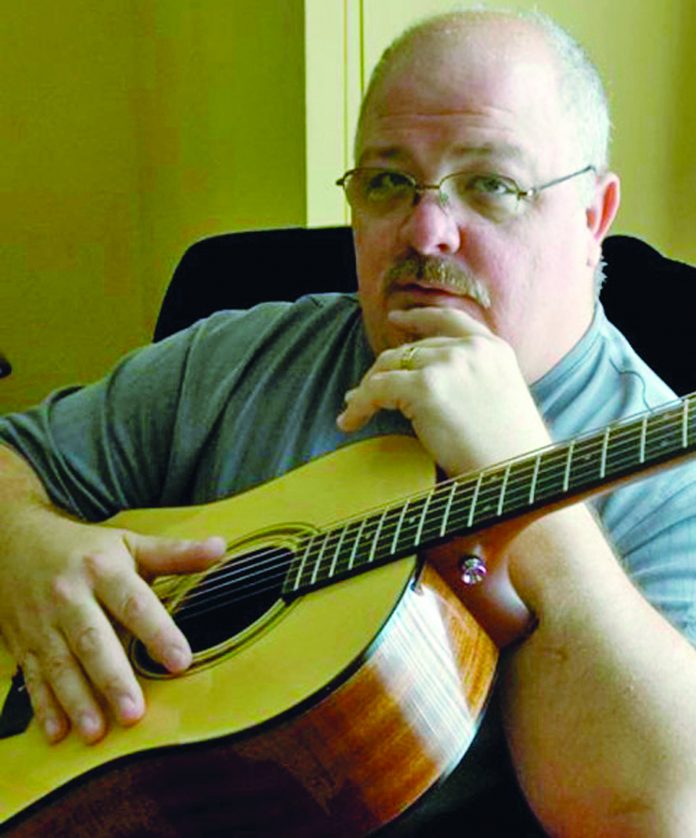 Musician Jim Hurst has made his unique picking style an institution, mastering bluegrass guitar that has wowed audiences across the country. His colorful and diverse career has made him a "remarkable performer," experienced instructor and sought-after session musician. Besides Hurst's high level of musical talent, he remains affable, gregarious and approachable, music lovers say.
Garnering numerous nominations, Hurst received IBMA's prestigious "Guitar Player of the Year" awards for 2001 and 2002. This award is voted on by IBMA members, including his peers and contemporaries revealing their appreciation of his abilities.
The NEWS spoke with Hurst a week before his Boulevard Music appearance.
MUSICAL START: I started at the age of 4, I still have and play at home my first guitar, which I received on Christmas of that year. Started 'making up songs/tunes maybe at the age of 10…still trying to be good at it, or at least improving. Like musically, writing is a life-long effort.2) MAIN INFLUENCES: Initially my dad, then my older brother. After that, I listened to so many, but Doc Watson, Chet Atkins, Jerry Reed, Tony Rice top the list of initial influences.3) YOUR STYLE:  Wow… a hybrid player in that I play flat-pick and finger-style, I try to approach the guitar as a musician first and singer second… meaning I use my voice to inspire my phrasing and lyrical melodic lines. Dynamics is one of my favorite things, as is a variety of material to perform.4) MUSIC SCENE AT HOME: Nashville, Tenn. is blessed with highly skilled musicians, singers, songwriters, and such. Similar to actors, etc in LA, Nashville has a lot of visitors and eventually residents trying to get into the music business, in the fact that so many come here to get seen and heard, and dream about their big breaks. Some go back home after deciding the effort isn't working – or worth the choices in the changes in their lives.

5) BEST AND WORST GIGS: Worst was when I joined a couple of local musicians to do a gig in a smaller town outside of Nashville. We rehearsed, hauled gear, set-up and did a sound check, then the county deputy sheriff's came in and told the manager to shut it down, thereby canceling the gig. Best: Hard to pick one, but performing an opening set before the Doobie Brothers took the stage is a highlight. Also being on stage with Don Henley at the Roxy – I was there as a member of the Trisha Yearwood band, and he came in to sing with her on "Walkaway Joe' which he sang with her on her album.

6) ALBUMS: Yes, I have 7 CDs I have produced for myself, and folks can check them out on my website com,
DISCOGRAPHY: Too many to list here, I've recorded with Sara Evans, David Grisman, Claire Lynch, Missy Raines, Mark Schatz. I have guested on other indy recordings, I produced several of them as well.
7) HAVE YOU PLAYED BOULEVARD MUSIC BEFORE? Yes, a few times, twice as a solo. Been there with Claire Lynch Band, and in a duo with Rob Ickes
8) WHAT CAN WE EXPECT OF YOUR UPCOMING PERFORMANCE? My guitar style, my singing, performing original material and songs from other songwriters.
9) FUTURE PLANS? Play music as long as I can, continuing to find ways to improve in my efforts, and enjoy life.