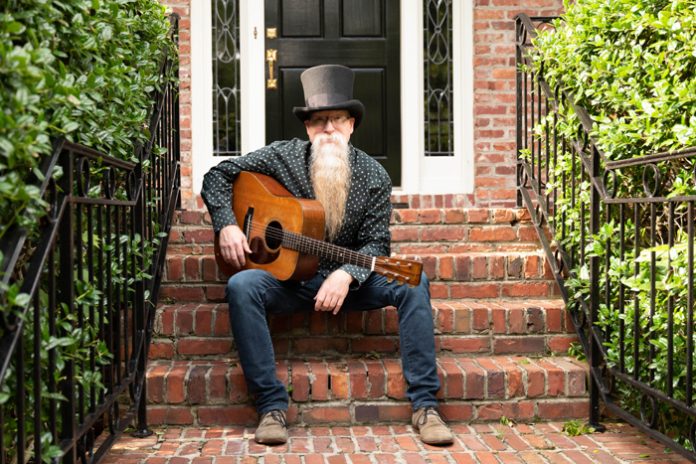 By Gary Mandell and Gary Kohatsu
Flatpicking guitar was not invented by David Grier, but you wouldn't necessarily know that. The man is good. Some say "amazing."
Take a listen and you be the judge.
Born in Washington, D.C. in 1961, a family move to Nashville at age 3 fully immersed David Grier into the bluegrass music world, and at age 6, he began playing the guitar. Today, he is regarded as one of the premier acoustic guitarists in the world, along with his early influences, Doc Watson, Tony Rice, and family friend Clarence White.
Recognized by Acoustic Guitar Magazine in 2000 as one of the Artists of the Decade, and named Guitar Player of the Year three times by the International Bluegrass Music Association, Grier has played on four Grammy Award-winning albums (True Life Blues: A Tribute to Bill Monroe; The Great Dobro Sessions; Alison Brown's Fairweather; and Amazing Grace 2: A Country Salute to Gospel).
The News met with Grier and came away with wide-eyed wonderment. Here's the music talk:
1) When did you start playing and writing music, and when did you start taking it seriously (playing live, recording, etc)?
I started playing guitar when I was 6 years old. My father showed me the basic chords and I would play along to records in my room. Its like if your dad is a mechanic you learn at an early age the names of tools & their uses. Well, my father was a musician so I learned about that. I got insight & pointers along the way that are invaluable. I was playing in bars as a teenager. I always knew I would be a musician. From an early age.
2) Who are your main influences?
First my father. Then Bill Monroe, Clarence White, Doc Watson, Tony Rice & many others.
3) Describe your particular style…
My style is derived from bluegrass music, but has enveloped other flavors along the way. I've been playing guitar 52 years! It is mostly instrumental, but recently I've been singing too.
This show will be solo guitar. Just me playing on stage alone. It will be just like if you were at my house watching me play. Informal, nice & easy, but you'll be in awe. There's a good chance you'll leave feeling better than when you arrived.
4) Where are you based?
I live in Nashville, TN. I've been here 33 years now!
What do you think of the local scene?
The scene here is amazing. I love it.
5) Best gig to date?
One that stands out is playing at Steve Martins wedding. I played with my friends in the band Hot Rize. It was there I met Martin Mull, who wrote the liner notes for my cd EVOCATIVE. It was in the back yard. Just a nice party with a bunch of folks you've seen on TV. Tom Hanks was really nice. Paul McCartney told me not to drop names!
6) Do you have any albums?
Yes, many. I'm in the final weeks of getting my 15th cd released! My 1st one came out (on record and cassette) in 1988 on Rounder Records. The new one will be called WAYS OF THE WORLD and will be the 6th release on my own label, Dreadnought Recordings.
I'm looking forward to playing some of my new songs on this tour.
7) Have you played Boulevard Music before?
Yes, many times over the years.
How did that connection happen?
The owner Gary Mandell sent an email to me. I responded, then set up a date. The show went very well. Packed house.
8) What can we expect from your upcoming performance?
Usually the 1st set begins with a juggler (with an eye patch & wooden leg) riding a unicycle across the stage while humming the Star Spangled Banner on a kazoo, but I've had to let him go because sometimes we just couldn't see eye to eye!
In spite of that, you'll hear many songs & tunes I've written.
All in all it will be a great time. As it always is.
9) What do you have planned going forward, after this show, for 2018?
There's more touring, but I most enjoy writing songs.