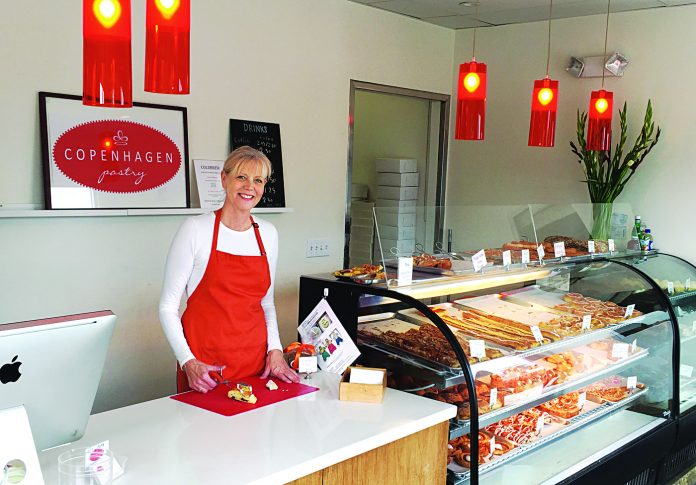 The red oval Copenhagen sign sits against an attractively modern white-and-brown wooden building on Washington Boulevard. Having opened its doors in 2012, Copenhagen Pastry's website makes claims to be Culver City's very first authentic Danish pastry shop.
What is a traditional Danish pastry? Butter is one of the main ingredients along with yeast-leavened dough, milk, eggs, and sugar. The dough is thinly rolled with butter placed in between each layer of dough, in total creating 27 layers according to Wikipedia. This results in multiple buttery and flaky layers.
This article is long in coming. Having an opportunity to speak with the energetic owner, Karen Hansen, proved to be a challenge as she prides herself on being hands-on and is therefore involved in the many aspects of her business. She is focused on the entire experience for anyone who walks through the door.
Hansen grew up in Denmark and after arriving in the United States, had a desire to recreate her childhood memories of true Danish pastries and uses authentic recipes and baking methods. The professional staff shares her goals of both quality and courtesy towards their customers.
Patrons generally know exactly what they are getting, since many are return customers and because samples of various freshly baked pastries are generously offered. Copenhagen Pastry has even made efforts to offer dairy free, nut free and gluten free items.
So just what do customers have to say about Copenhagen Pastry? Of the 833 Yelp reviews, 689 of those are five-star reviews and 102 four-star reviews. That is very impressive for any eatery or in this case a bakery that has stood the test of time, especially on the Westside of Los Angeles.
Yelper Krys T. who rated it five stars had this to say: "They know how to make their pastries flakey, perfectly sweet, and keep you wanting more."
"A small shop filled to the brim with delicious flavors, Copenhagen Pastry is a great place to satisfy your sweet tooth. The staff was exceptionally pleasant and friendly from the second I walked in the door till the moment I left." Stated Doug P. who gave it four stars.
If you are an almond lover, you are in luck as that is the primary paste or custard filling in most of the pastries. Fruit fillings include apple and raspberry. There are pastries made with poppy, coconut, and chocolate as well.
The bread offered is rye bread made with whole grain rye, flax seeds, rye berries, and sunflower seeds.
A special in-house, cold brew coffee made with milk and homemade vanilla bean syrup is served daily of which samples can be had upon request. Fresh hot coffee and tea are also on the menu.
Copenhagen Pastry is located at 11113 Washington Blvd., Culver City, and is open Tuesday through Friday, from 7 a.m. to 5 p.m., and Saturday and Sunday from 8 a.m. to 4 p.m. Delivery is available through doordash.com, seamless.com, and postmates.com.