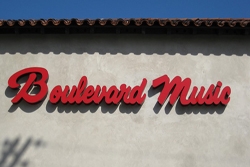 Saturday's guest performer at Boulevard Music, Paul Abell, is a guitarist-musician with so many personal influences that it's difficult to know whose name comes first among his mentors.
Asbell, a self-taught guitarist since age 12, said his early inspirations include Lightnin' Hopkins, Woody Guthrie, the Carter Family, and Blind Willie Johnson before he moved on to other heroes, such as Buddy Guy, Otis Rush, Earl Hooker, Robert Nighthawk and Cornell Dupree.
Asbell noted if that isn't enough, he can throw in contemporary names like Martin Simpson, Kelly Joe Phelps, Ry Cooder, David Lindley, Woody Mann, Brooks Williams, and Howard Emerson.
"I think the best description of what I do live was written by the Flynn Theater, in Burlington, Vt., where I live," Asbell told the NEWS this week. "They called my performances there 'A genre-blurring, virtuosic waltz through the deep heritage of American folklore, where styles of Robert Johnson, Doc Watson, and Dr. John rub elbows with those of Joe Pass and Bill Frisell.'"
Music lovers can wrap their heads around his bio as it reads on paper or they can get over to Boulevard Music on Saturday, Jan. 18 from 8 to 10 p.m. Tickets are $17.50 and can be purchased by stopping in at Boulevard Music, 4316 Sepulveda Blvd., Culver City. Or call 310-398-2583.
Asbell started with an acoustic guitar that his dad had "broken in" singing pro-labor and "peoples' songs," while performing at union rallies and concerts in the late 1940s.
His own music career took off at age 18 "in the trenches" of Pepper's Lounge, the 1815 Club, Theresa's, and other haunts, as a sideman to Otis Rush, Magic Sam, Junior Wells and other fixtures of the Chicago blues scene.
In 1971, needing a "spiritual battery recharge," Asbell left Chicago for Vermont.
He bought a sliver of land in the shadow of Camel's Hump Mountain, built a geodesic dome, and attempted to live "like normal folks who didn't live the music life 24 hours a day."
It was his way of moving as far from his "urban music roots" as possible.
Finding musicians with similar journeys in Vermont led to Asbell playing four nights a week with local R&B and jazz-based groups, doing session work for locally-based, but nationally known Philo Records, and performing regionally with Mary McCaslin, Jim Ringer, Paul Siebel, and other singer-songwriters.
The desire to play challenging original music led him to assemble a quartet of like-minded, world-class players.
Originally named "The Paul Asbell Quartet", the group soon changed its name to "Kilimanjaro" and recorded two albums of Paul's compositions for Philo, which won "Indie" awards from NAIRD for "Most Innovative Album" of 1981, and "Best Jazz Album" for 1983.
At heart, Asbell said his musical passion will always go back to what he heard as a kid.
"Although I grew up and learned to play in Chicago, most of my musical influences, experiences, and preferences come from the American South," he said. "Blues, jazz, R&B, gospel music, bluegrass, and old-timey music… those are the styles I've felt an emotional tug from, ever since I was a kid, listening to my dad's '78 records.
"The best way I know to describe my style is to explain the title of my most recent CD, 'From Adamant To Atchafalaya,'" he said. "My musical vision lies smack-dab in the middle ground between the North and the South… between Adamant and Atchafalaya. I work hard in the shed to make my playing polished and articulate… but at the same time, I want it to feel loose, funky, and a bit rough-hewn."
Mostly a musician of live performances, Asbell said he has spent a little time in the studios.
"Although I've been a professional session musician for most of my life, playing for others, I have recorded three CDs over the last two decades that represent best what I do when playing solo acoustic shows," Asbell said. "They (as well as many live performance videos) can be found on my YouTube channel…  http://bit.ly/2yaEccx."
Among his recent appearances, include Healdsburg, Woodstock, N.Y. and Newport Guitar Festivals, Merle Fest, and numerous acoustic venues across the country. His two solo acoustic CDs, "Steel-String Americana" and "Roots and Branches" received rave reviews in various publications, such as Acoustic Guitar, Guitar Player, Sing Out, Downbeat, and Blues Revue.
He was praised for his highly individualized twists on blues and jazz standards, old-time country-based themes and original pieces from the "American Roots" tradition.
To learn more about Asbell and his music, log on at https://paulasbell.com/.