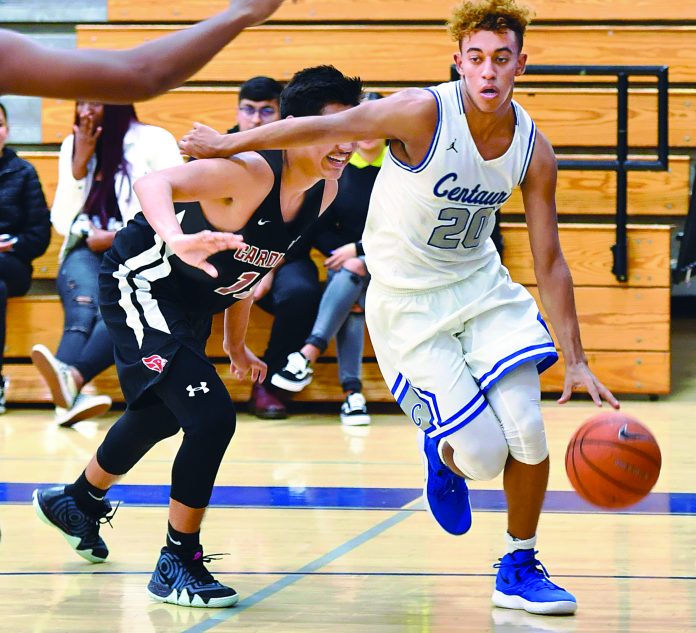 The Culver City high school varsity boys and girls basketball teams are looking forward to Ocean League play after a tough preseason. At press time (Tuesday) the boys were 7-11 overall and 2-0 in league play, and the girls were 7-9 overall and 1-1 in the league. Both teams battle Hawthorne at home on Friday. The girls' game starts at 6 p.m. followed the boys at 7:30 p.m.
Last Friday, both teams won their games against Lawndale. The boys won 69-66 in double overtime, and the girls beat the Cardinals 71-31. Both teams played El Segundo last Wednesday.
The boys' team does not have a lot of sizes, but they play hard. "We have a feisty team," longtime basketball coach and Culver City assistant coach Greg Cobbs said after their win over Santa Monica last week.  "A couple of our kids might have a shot at the next level, but the main thing is the team plays hard. Whatever we ask them to do, they will try to do it. "
Cobbs thinks if they continue to improve, they can compete in the Ocean League. "They are a scrappy team," Cobbs pointed out. "We did not have a good preseason, but league play was our target. We have to take it one game at a time." The Centaurs will look to seniors Sean Newman Jr., Quincy Lawson, and Tyler Wiley to put them in a position to make the CIF playoffs.
The boys' head coach is RJ Walker, who is now in his second year. He likes his team, but he knows the Ocean League is very competitive. "The league from top to bottom is good," Walker said last week. "On any given night, anybody can beat you, and you have to bring your A-game every night."
If the Centaurs expect to stay in playoff contention, they will have to improve their communication skills. "We are a small team, but we really play hard and we are tough so when the communication comes this will be a whole new team," Walker remarked. "We have to keep building and keep learning. I tell my kids that we are not built for November and December; we are built for January, February, and March. We have to have that mindset."
The girls' team is a carbon copy of the boys' team, small but scrappy. The girls' team has had a lot of success over the past 11 years under the direction of head coach Julian Anderson, but this season, the team is young. That's why it is so important to have a senior like Junie Dickson on the team.
Dickson is a fourth-year varsity player who leads by example, "I love it," said Dickson last week. "There is no other option. I love these girls. I would not want it any other way. I want to be an example to them because I want the best for them, personally and as a team of course."
Dickson has learned not to put too much pressure on herself. "Through the years I would put a lot of pressure on myself but I learned to put pressure on your self does not necessarily help. You have to prepare yourself. You want to put in the hours in the gym so you are ready and you don't have that pressure and it becomes more natural and more comfortable."
Being a fourth-year varsity player is special. "It feels great, but you know I never really saw like that but if you put in the years and hard work it pays off," Dickson said. She played a lot of different sports growing up but fell in love with basketball after playing a lot of one-on-one games against her older brother.
"He pushed me a lot and treated me almost like a brother, and I got tougher," Dickson remembered. "I started putting in more hours and I started seeing the results and that was the beautiful thing about it and I think that I will take that into life."
This is her last year at Culver City, and she really likes this team. "I think that we can be great. Definitely I have never played on a team with this much heart. We are small but we have a lot of aggressive players."
When the season and her Centaur career is over, she wants people to remember her story. "I want to be a role model for kids like me," Dickson explained. "I did not start out being a good player, but I worked hard and now I want to bring that to kids who are developing in basketball. It does not come overnight. I worked hard and I want to teach that to kids that with hard work, you can be great."