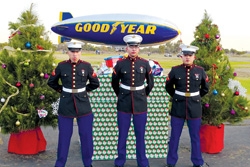 The Goodyear blimps and the U. S. Marine Corps Reserve will conduct their sixth joint maneuver in December to benefit the Toys for Tots Foundation at the company's three U.S. blimp bases in California, Ohio and Florida. These events will provide the public with an opportunity to make a donation to Toys for Tots while enjoying an up-close and personal view of the airships.
On Saturday and Sunday, Dec. 10-11, from noon to 6 p.m., California visitors can tour The Goodyear Tire & Rubber Company's blimp base at 19200 S. Main St., Gardena and get a behind the scenes look at the company's last GZ-20 model blimp Spirit of Innovation. The event is free and open to the public. Donations of brand new toys in the original packaging or cash are encouraged to support the U.S. Marine Corps Reserve Toys for Tots Foundation, but not required.
"We take great pride in our Goodyear blimp crews teaming up with the U.S. Marine Corps Reserve to support the Toys for Tots Foundation," said Paul Fitzhenry, senior vice president, Global Communications. "Through this program, we open our doors to the community and encourage our blimp fans to share in the spirit of giving that defines and gives meaning to the holiday season."
Goodyear and the Marines are building on the success of five previous events, which collectively delivered more than 57,000 toys and $75,000 to benefit Toys for Tots.
"The Marine Toys for Tots Foundation and the U.S. Marine Corps Reserve are grateful to Goodyear for returning as a national sponsor again this year," said retired Marine Colonel, Ted Silvester, vice president of the Marine Toys for Tots Foundation. "We know how successful their drive-through program has been in recent years, and we're very excited about working together again this year. It should generate many additional toys to help us fulfill the Christmas dreams of less fortunate children who might otherwise be forgotten."
Goodyear first nicknamed one of its blimps the "Santa Claus Express" in 1927 to spread holiday cheer across the skies of America. The company has a long history of community involvement and associate volunteerism within its corporate social responsibility platform, Goodyear Better Future. The Goodyear Better Future platform and Goodyear Airship Operations support collaborative programs, such as the Toys for Tots Foundation and community organizations to create positive outcomes for the community.