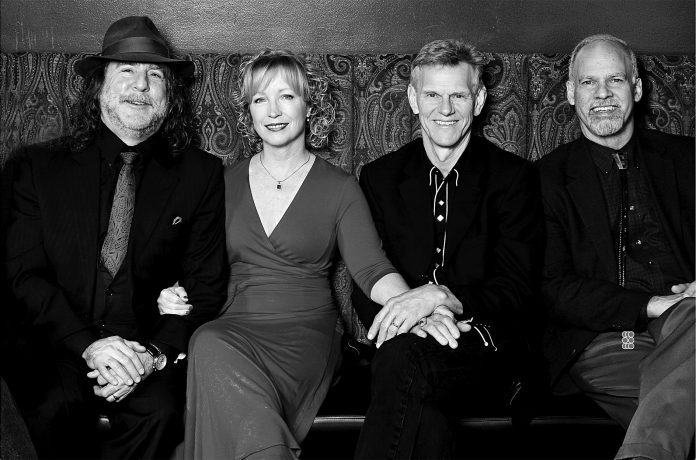 Susie Glaze New Folk Ensemble back for encore
Award-winning vocalist Susie Glaze, mandolinist Steve Rankin, fiddler Mark Indictor , and bassist Fred Sanders are The Susie Glaze New Folk Ensemble, the newest version of the acclaimed Los Angeles-based Americana group, a lush new folk Americana fusion ensemble, presenting gorgeous eclectic blends of mountain folk and exciting new grassy and Celtic-inspired originals, all with the remarkable voice of Susie Glaze.
The group has been likened to the classic British bands Pentangle and Fairport Convention in that they blend classic folk music with rough-edged stories of tragedy and fate, all with orchestral arrangements sounding like chamber music gone folk!
Gary Mandell, Boulevard Music
The Susie Glaze New Folk Ensemble will share the spotlight with guitarist Rick Shea from 8 to 10 p.m., Saturday, April 13 at Boulevard Music, 4316 Sepulveda Blvd., Culver City. Tickets are $20. Go to https://www.boulevardmusic.com/ or call 310-398-2583. Online tickets sales close at 6 p.m. the night of the show.
The News contacted Glaze and the talented musician took time from her busy schedule to talk about her ensemble of musicians and their upcoming performance at Boulevard Music.
1) When did you start playing and writing music?
Growing up in Middle Tennessee, I began playing as a teenager, but followed my heart into the world of live theatre. I received my BA degree from the University of Tennessee, Knoxville, majoring in Speech and Theatre, and followed my passion to New York where I worked for 10 years as an actress and singer, including the original Broadway company of Roger Miller's musical "Big River" in 1986-88.
After my move to Los Angeles in 1988, I moved into the world of Bluegrass and joined a group called The Eight Hand String Band, which included my current bassist, Fred Sanders, and mandolin/guitarist Steve Rankin (who is now my husband of almost 20 years).
I started the Hilonesome Band in 2003 featuring the original songwriting of our band mate Rob Carlson and began pursuing a serious career of touring and recording.
We recorded our first CD "Blue Eyed Darlin" in 2005, "Live From the Freight and Salvage" in 2010 and "White Swan" in 2013.  Mark Indictor joined the group on fiddle in 2010 as our work began veering away from Bluegrass and into a more wide-open group of genre influences such as Celtic, Mountain, Appalachian, Folk and Americana.
In 2015, we released "Not That Kind of Girl," which would be Rob Carlson's last album with us. The next year we lost Rob and changed our group named to the Susie Glaze New Folk Ensemble, a quartet of myself on guitar and mountain dulcimer, Steve Rankin on mandolin, guitar and bouzouki, Fred Sanders on bass and Mark Indictor on fiddle. We will release our next album "Live From McCabe's" in the summer of 2019.
2) Who are your main influences?
Emmylou Harris, Jean Ritchie, and Dolly Parton.
3) Describe your particular style…
From our website, "About" page… From the Review of "White Swan" on No Depression: "From skilled instrumentation bluegrass jams, Appalachian vocals, sweet high lonesome harmonies, and old-time folk influences, White Swan sings with the richness of a tapestry of American music that weaves together each genre through song-craft, clear production and authentic performance in such a seamless way, it feels like we're hearing just one genre; great American music."
4) Where are you based? What do you think of the local scene?
We are based in Los Angeles.  The local scene is a good one, but I feel a lack of a number of venues that present acoustic music in a concert setting.
5) Best gig and worst gig to date?
We were on the bill at Merlefest in 2016, which was a real thrill.  Here in town we always enjoy playing McCabe's Guitar Shop and Boulevard Music for the great sound systems and audience we've built over the years. I think it's best not to talk about the worst gigs.
6) Do you have any albums/singles available?
Discography: Home on the Hill, 2002; Blue Eyed Darlin, 2005; Green Kentucky Blues, 2007; Live at the Freight & Salvage, 2010; White Swan, 2013; Not That Kind of Girl, 2015. Coming summer of 2019:  Live At McCabe's, 2019
7) Have you played Boulevard Music before?
We've been playing Boulevard since almost the store opened its doors. We've played there probably a dozen times or more.  I knew that Gary Mandell had opened the store and that he was going to present acoustic artists so I simply called him.  The shows have gone really well over the years.
8) What can we expect from your upcoming performance?
We're performing some originals from our albums, along with new covers that we haven't recorded yet, including songs from Bonnie Raitt, Steve Earle, Linda Thompson, and Bob Dylan.
9) What are your future plans?
Most of 2019 will be about the production of our "Live At McCabe's" album.